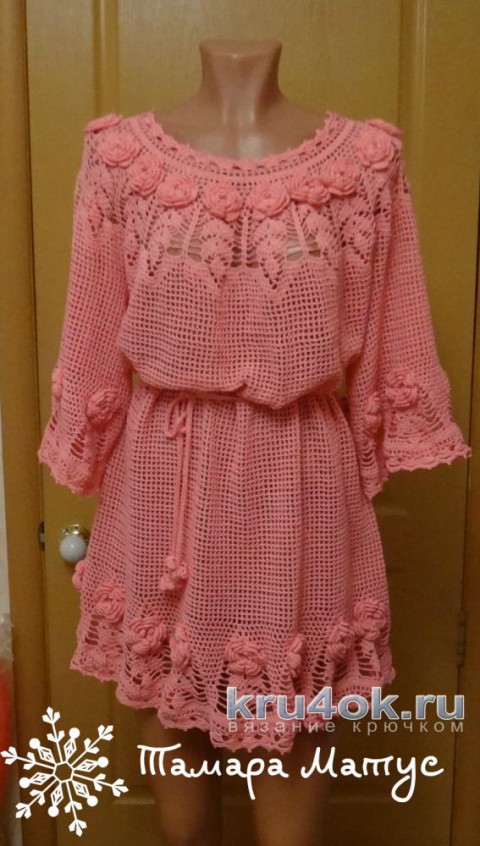 Tunic "In the land of magnolias..." made a hook of 1.75 mercerized cotton Chamomile. Consumption by 45-50 size -600 grams. Kaimu used in the diagram to the bottom. Roses were knitted separately and then sewn. Tunic length 80cm. Sleeve length 40cm. The tunic attached belt. This is a necessary thing in Your wardrobe this summer! Suitable for any figure. It will provide You a bright mood for the whole day.
Based on the description taken tunic blouse from a magazine:
Size: 44.
You will need: 400 g of white yarn (100% Coton, 169 m/50 g); hook №3.
The basic pattern for coquette: diagram 14-1. The diagram shows all rows.
Mesh: diagram 14-2. The above chart shows the direct and reverse rows, repeat 1st and 2nd rows.
Description tunic:
The size and direction of knitting is indicated on the pattern (Fig. 14-1). The model fit from the top down in one fabric without side seams. Work is performed in stages.
The first stage (yoke).
Vymazat a chain of 156 V. p., closes in the ring and knit the basic pattern for the yoke in diagram 14-1, the width of the web distribute 12 rapport. Each series closes S. S. and vymazat 3 VP to rise to a new series. The instep features at the offer side seam. The extension leaf make the addition as shown on the diagram. Tall do all the ranks and finished yoke.
The second stage (the lower part of the blouse).
Divide the canvas into 4 parts (3 rapport), tagging can be done with pins. Armhole Express outside of work, they are ready.
The back and front connect to a single canvas and knit pattern mesh according to scheme 14-2. After 16 cm from the origin of the grid by the proposed side seams make the addition, as indicated in the diagram with 3rd to 6th row. After 26 cm from the beginning of the mesh knit basic pattern in diagram 14-1, the width of the web distribute 13 rapport. After 9 cm from the beginning of the main pattern finish knitting.
Scheme knitting tunic: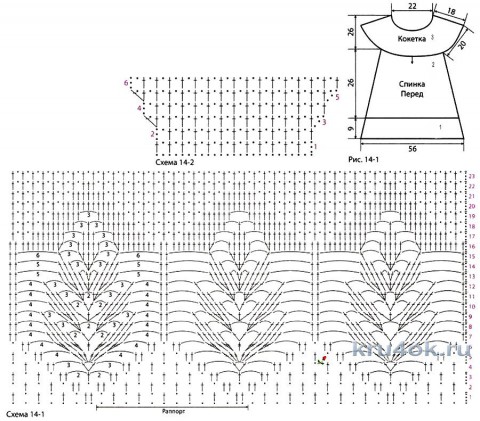 Strapping tunic used the last scheme of the edges:
Post author