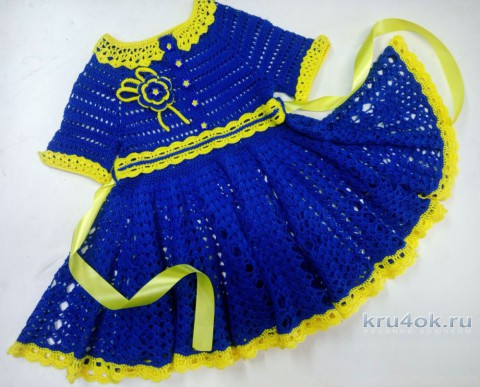 Hello! Dress Nezabudka. Crochet dress (60 cm long) I used 2 skeins Anna 16 of SEAM, 1 skein of alize forever, as well as the hook (1,2). We also need the necessary hardware (7 buttons, pin cushion, meter satin ribbon, and will require your imagination!)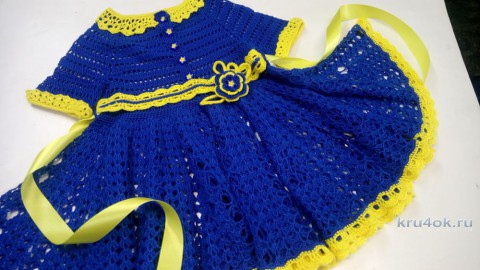 Description dress:
So, fit dress Raglan top without seams. The current front placket. I knit a dress for 2 years old, you need measurements it is necessary to make recalculation loops. Let's get started. Recruited 95 air loops (15 HP Shelf, 1 R. p., 15 HP Sleeve, 1 R. p., 31 back, 1 R. p., 15 p. Sleeve, 1 R. p., 15 p. Shelf). Then knit the yoke on the scheme, I only slightly modified in regenye loops knit 2 SSN, 1 VP, 2 PRS. For each series. Having knitted the yoke the desired height, I went to vyvazhivanii torso, this underarm parts were added on each side of at 10 p. by Associating the required number of rows, banded 1 R SC, at the same time vymazyvaja bar for the buttons, and then join round, knit another 2-5 rows of SC (as you want). So in total I have 150 loops.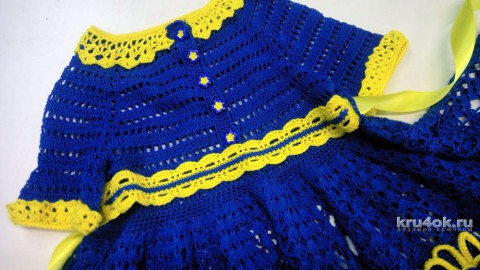 Next step: knit skirt. Knit according to the scheme. 1 row knit as follows: knit 1, and 2 SC on the scheme, skip 3 SC, etc. in this set 1 row of the diagram, the skirt gives a very lush, if you want to reduce pignato, then dial 1 SC and next 2 miss. In order to increase pyshnotu dial in each SC. Knit according to the scheme increase until, until it as you see fit, it took me slightly more than half of the rows increase. A total of 150 loops I got 1250. When knitting, remember that after Stripping length will increase significantly, in my case 10 cm.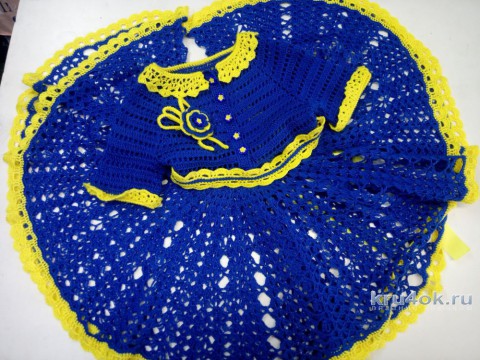 When the dress and tying the bottom of the product are ready, start the knitting of the collar and cuffs. Knit in same pattern as the main skirt. To do this, first binds to the region of the neck (sleeve) SC and rachim step, then a series of relief SC and then the collar (cuffs).
Belt. Knitting belt need to tie the string "caterpillar" required length in blue, and then on both sides of tie a yellow color the same shells as the edge of the skirt, then sew on the sides with satin ribbon to match and a belt ready.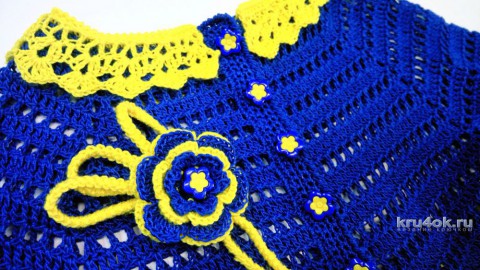 Brooch for dresses description
Knit layered flowers, MK enough free online. Separately banded the pillow and his already attachable flower. The middle flower decorate the same buttons as on the dress, also can be decorated cord "inchworm" or any extra Accessories or buciumi.
Otpaivaem be sure and dress. Although I would have added a tulle petticoat for the beauty of the skirt, but alas...
Hope you like it. I would be grateful for likes and reposts)))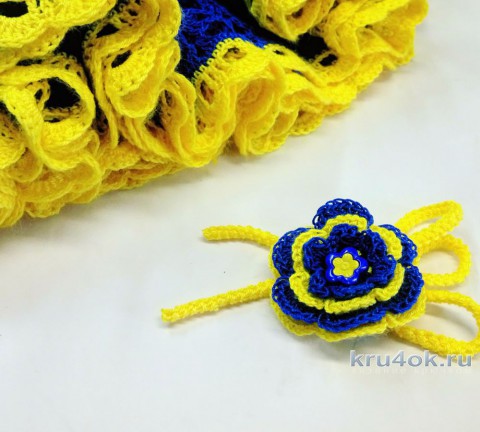 Scheme crochet dress:
Post author