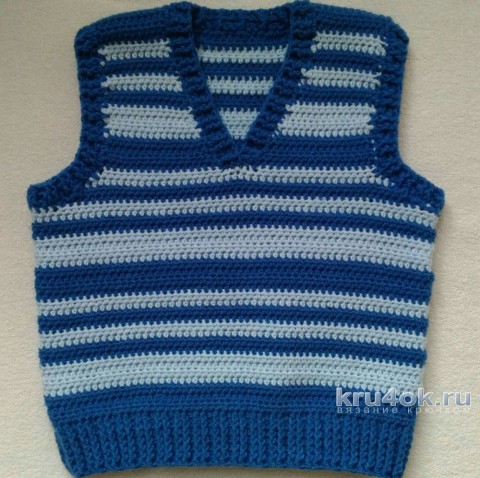 Vest stripe for a boy 1-3 years crochet.
The vest is very nice yarn Alize Happy Baby 100 g / 350 m, the composition of the yarn: 65% acrylic, 35% polyamide. Consumption: 1 skein color "cornflower" and gender rolls "Holy blue". Hook №3.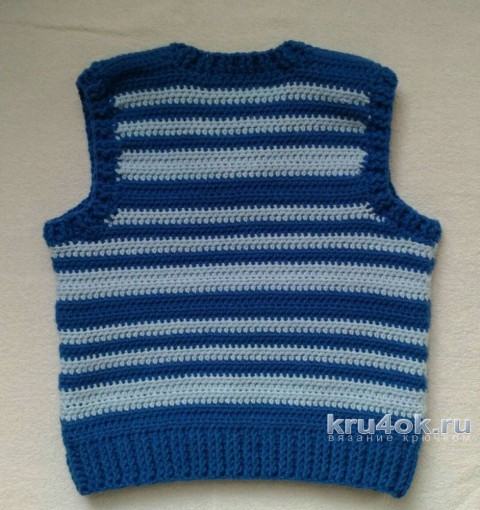 Vest fit the pattern, but I knit another vest, which corresponded to measurements taken with the child.
Measurements:
Bust 52 cm
product length 35 cm,
the head circumference of 48 cm
Vest for boy crochet description
Fit first back, then front. Elastic hem leave 4 cm, then the height of each part is 31 cm To the width of the parts I got 60 VP Basic pattern — polostevichi with stitches (4 rows blue, 4 blue, 2 blue, 2 blue, 2 blue, 2 blue). Therefore fit the 28 rows (17 cm). Next, make obuvki sides. 29 a number of retreat first 4 loops and not 4 loops dokazyvaet. 30, 31 and 32 ranks diminish by 2 hinges on each side (i.e. 4 loops on row). A total of 20 unbroken loops, and now the series consists of 40 loops. For the back from the beginning of ubavoj fit 24 rows (about 14 cm). Then the edges are "hangers", are finished on each side by 2 rows , each with 12 polytypical with nakida.
For the front — after the execution of ubavoj on the sides, you need to bind the neckline. To do this, divide the remaining 40 stitches on 2 part (18 and 18 and 4 in the middle don't knit). Thus, the right and left sides of the front need to subtract 18 from the loops to 12, that is 6 loops. Here obuvki made through a series and reaching the 12 loops and knitting is continued to the desired length.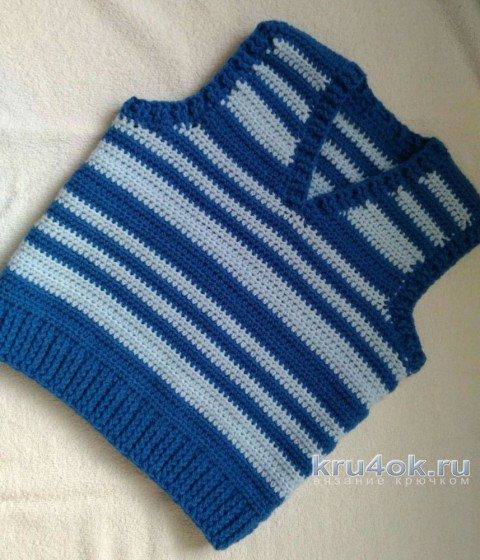 Assembly jacket: sew the shoulders with a needle first, and after the sides (note that because of the stripes a different color and stitch had, respectively, where the blue stripes and blue thread, and where the blue — blue).
Sleeves, neckline and hem — rubber blue color from the embossed columns with nakida (2 relief column from the front, one on the reverse). That is, when you set the first row of bands, you need to calculate that number of loops be divisible by 3.
Refill strings and ready.
How to knit elastic band crochet pattern: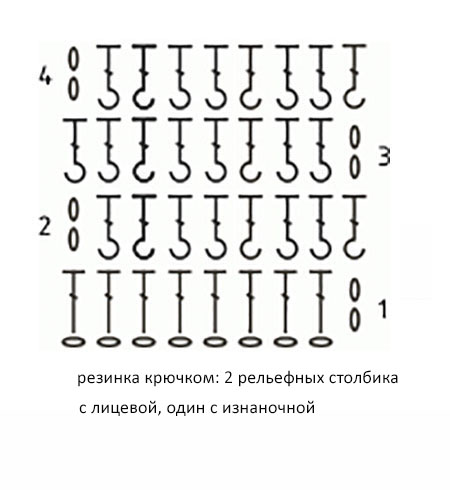 Pattern vest: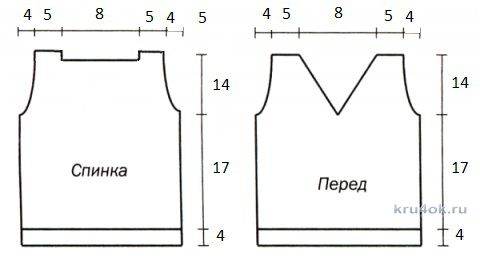 Post author