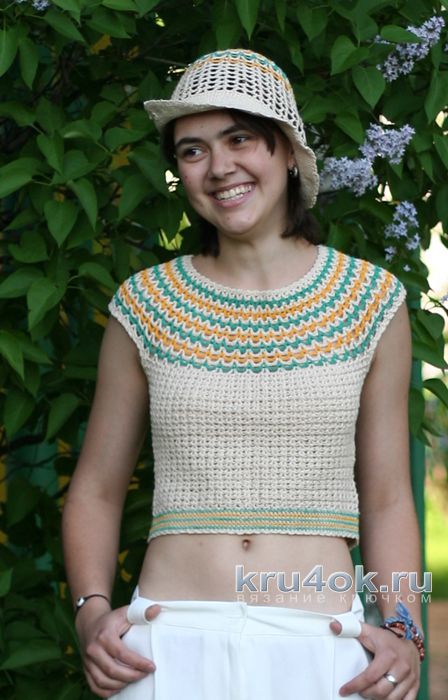 Crochet top (size 42) and cap, used light x/W thread "Flight" 420m/100g Moscow factory "Kamteks" and colored waste, cotton thread close to the thickness to be about 300 g, hook 2,5.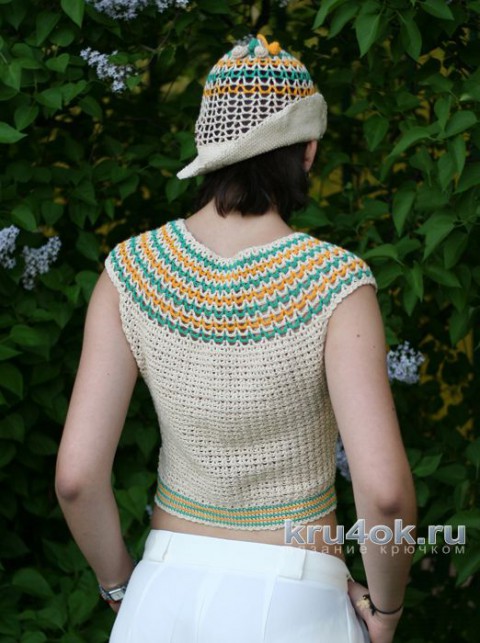 Crochet top, description
The ring yoke is connected from the neck of the increasing "tick." Beginning crochet chain complex shapes (figure 1 - 3b.p. PT with 1H in 3rd from hook loop, again 3b.p. PT with 1H in 3rd from hook loop, etc.) with a length of 58-60 cm (to freely pass head), which is associated with the 1st a number of ticks of PT 1H 1 air loop between the columns, rows 2-6 are the same hook to enter under the air loop. In the 7th row cloth yoke is expanded by adding 1 VP after every 2nd tick, 8-10 rows are the same. In rows 11-14 among all ticks for 1 VP At the beginning of each row instead of the 1st column is a chain of 3 V. p. each row is closed connecting column.
To top to dial a chain of complex shape with a length of 60cm and knit a round yoke. 1, 3 and all odd-numbered rows of the main color, even rows of alternating colors and finishing. The height of the yoke 14 rows, 10 cm, bottom length of line 120cm. Mark the bottom line of the shoulder: 34 cm backrest 34 cm in front and 26 cm sleeve (black lines in the diagram – front, green – back).
To tie on the front of the yoke 3 rows (3 cm) thick ticks (figure 1), cut the thread. Tie on the back 10 cm thick with ticks, to reach 5 cm under the arms and knit at the same time front and back in a circle. Along the lines of side seams to do the subtraction, vymazyvaja side tuck. On the bottom tie St b/n striped belt (3 cm), to finish the belt by a border of chains for 3 VP (scheme 1).
Tie the openings of one row. b/n and one row of 3 chains of the V. p.
Panama hook description
A hat knit according to scheme 2. 1,2,3 and all odd-numbered rows of the main color, 4.6, and all the even numbered rows – alternating finishing colors. The total height of the openwork part 16, see to Link 3 rows St. b/n, fit (subtract) the amount of the cap under the Circumference of your head (determined by fitting). Tie bars b/n conical field with a width of 6 cm with 4 sliding increments in each row, the last row – chain trim 3 V. p. to Bind in chains of length 5 - 7cm a few small colored "knobs", 5 PT 1N the last 5 loops of chain, pendants. Sew the trim to the top of the cap.
Scheme crochet top and Panama: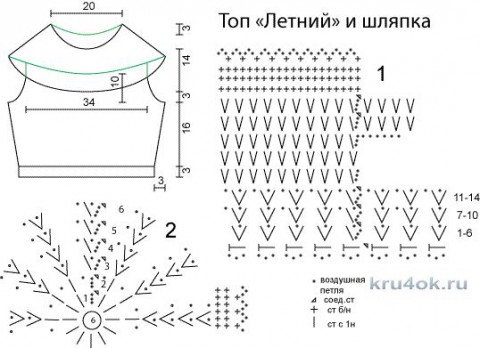 Post author