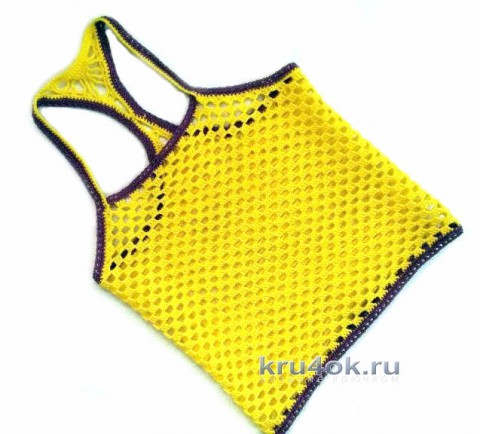 Top is from COCO yarn, the main color is bright yellow, the color to finish — purple. Composition yarn: 100% cotton, 50 gr., 240 m. it took 1 skein yellow. Measurements for the job: bust — 53 cm, head circumference — 48 cm, height 35 cm.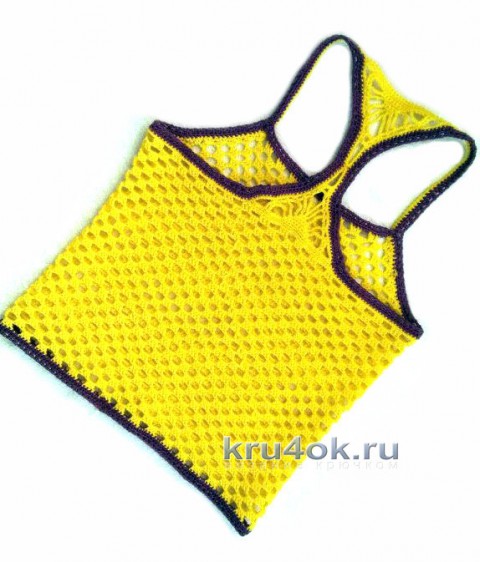 Crochet top, job description
Knit 2 triangles of figure 1.
Now, knit one row columns in the first row of the triangle (30 loops) and continue dialing the chain of air loops. Just a number should be the number of loops multiple of 3 (I 168), closable in the ring. Knit several rows according to scheme 2, but not on 2 columns with nakida and 2 air loop, and 3 tbsp. with n. 3 and VP Can be dobesilate immediately to the desired length of the product, but it is better to first make the top of the product, and then return to the main part. So, fix the eyelet pin so as not to dissolve and move on to the yoke.
Calculate the location of the front of the yoke stacked on the row of the main part, which we then Dowager from top to bottom. Knit desired number of rows (I have 6 rows) turning knitting and making obuvki sides in each row symmetrically.
Next, without interrupting the thread, we collect the desired number of loops for straps (I have 40 VP) and begins to tie the columns to the edge of the top of the triangle, connecting it with the bottom (which is already connected with the main part) Continue to knit columns on the armhole to the triangle interrupts the thread. Similarly, we do and on the other side.
Dokazyvaet to the desired length of the main part.
Banded edges with purple thread. I tied one close of polytypical with stitches, making several obivok and second series connected alternating polytypic with stitches and the air loop. In the same way the treated the top yoke and the bottom of the product.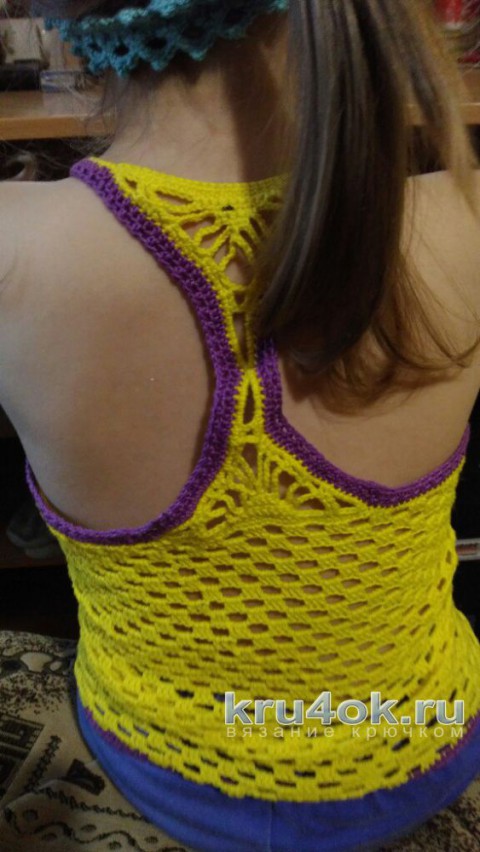 Top for girls crochet, charts crochet:
Post author