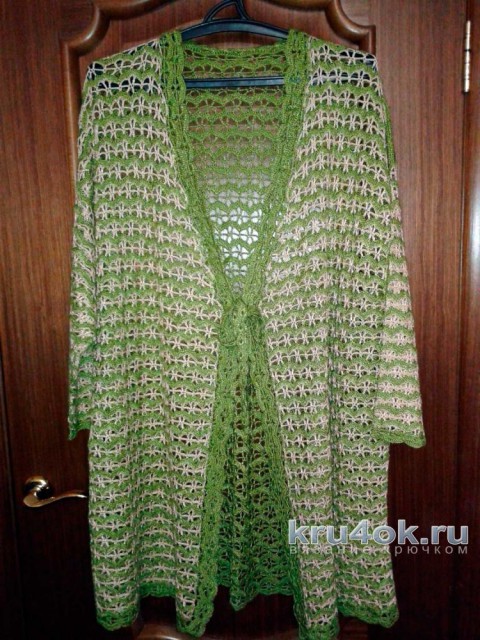 Openwork cardigan. Simple and beautiful.
The cardigan is crocheted of woolen yarns. The composition of the yarn: 47% cotton, 53% viscose. The length of the string is 400 m , weight 100 gr.
Size 60. The consumption of yarn 6 skeins (green yarn) and 2 skeins (beige yarn).
Hook № 1,5 mm.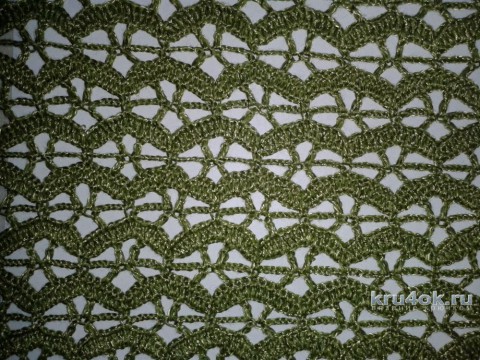 Description of the cardigan:
The back is knit according to the scheme № 1 with green yarn.
Shelf and sleeves are connected in a strip according to the scheme № 1.
1 row of beige yarn
2nd row - beige yarn
3 row green yarn
4 a number of beige yarn
5 a number of beige yarn
6 a number green yarn
7 a number of beige yarn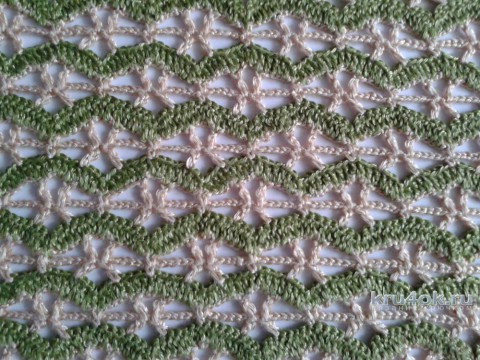 Details have started to knit the bottom.
From the beginning to link back, and shelves. To make the shoulder cut. Tie sleeves. Sew to the armhole. Sew the side seams the front and the back. Sew the sleeves to length.
Tie the edge of cardigan and sleeves with green yarn.
Cardigans front tied in a bow. Tied the two strings. Length knitted lace of 40 cm Green yarn. Scheme № 2.
Sewn braid.
Cardigan ready. Success!
The scheme of knitting of the cardigan:
Post author