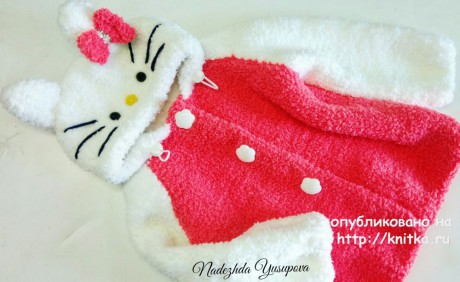 Hello! I come to you with another job. Imagine a hoodie for girl "hello kitty".
Materials: Yarn "Kuzma Klubochin" (size 110-116 left 9 skeins), knitting needles 3-3,5 different buttons for decoration, hat band, bands, buttons, extra Thread for antennae hook 5-5,5 eyelets.
A little bit about the process: the fit of this cardigan without seams, starting from the hood, the most convenient way for you, and then Raglan from the top. To the bottom of the product is a little extended, the sleeves are straight.
Sweatshirt with buttons along the entire length of the product, the non-removable hood with drawcord around the face.
Sweatshirt turned out so cushy and soft, so plush. Such a thing always like your child. According to this principle can be linked to any said character.
Post author