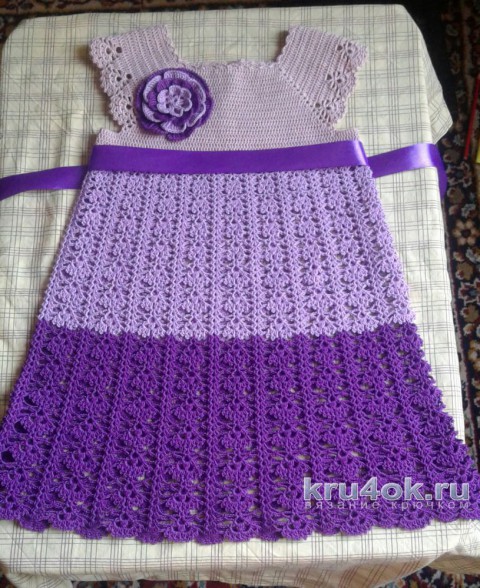 Dress for a Princess! At the age of 3-4 years old. Crocheted 1.5, thread "Vita Coco" 240m/50g. Took about 1 skein of dusty pink, 1.5 skeins lilac and more than 1.5 skeins of dark purple yarn.
Knit from the top-down scheme and a MK attached.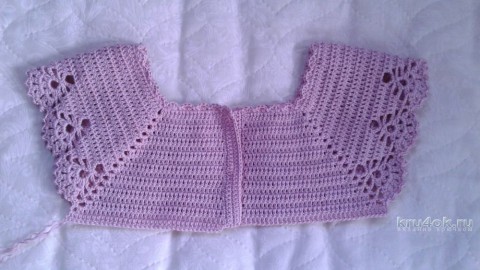 Description dress:
Rear yoke loops for 6 less than the front. When finished the yoke, from vivasyan strap with loops on one side and under the buttons on the other article. without nakida.
Binding neck: *4стсн in 1петлю,skip 1 p. in the trail. Conn. loop, noise. 1P.* repeat.
Overlay strap at each other, join and continue to knit art. SN. several rows, adding in the first row 10-20 VP (depending on size) on each side of the sleeves.
Then knit skirt under the scheme.
Flower description:
Recruited 5вп in the ring
1P 12сбн in the ring
2P 12сбн for the front wall, connect.
3P 3вп lifting 1ссн 3вп,(2ссн, 3вп)* povtoriti to the end (for the remainder of the rear wall 1ряда)
4P *3вп,7сс2н under the arch,3вп, Conn.loop between the arches* repeat.
5P 3V.p. Conn. for the 3P arch in the middle back of the petal. 5вп connecting loop in the middle of the next arch 3R, repeat to end. (will 6 arches)
6P *4вп' 9s.с3н(3 yo), 4вп, Conn.loop* repeat.
7R 3вп, Conn.loop as in 5P. *6вп. Conn.the loop behind lepista in the middle of the arch 5ряда.* REP.
8P *5вп, 12C.с4н. Under the arch, 5вп connecting loop.* repeat
9P 4B.p. repeat 7R. (8вп for arches)
10p *6V.p.14s.с5н,6вп.Conn loop*, repeat.until the end of the row.
Rail: *1соед.loop 1B.p.* REP.
Scheme crochet dress:
Post author