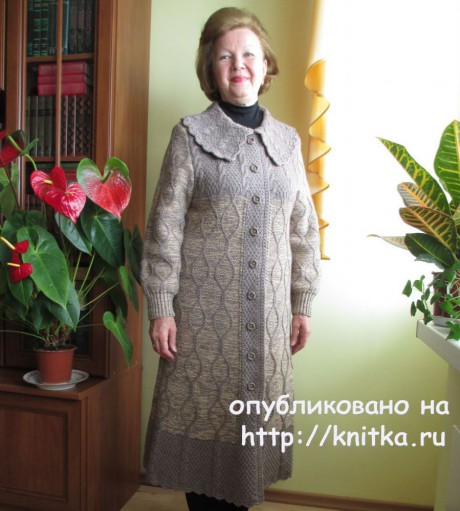 This overcoat is knitted manually with needles. The author's work.
You'll need 1600 grams of yarn is 100% wool. Used yarn in bobbins (very thin) to 10 additions. Melange part is knitted from two balls, each in 5 plies of different colors. Spokes number 5 and the hook number 5 for banding coats and collar.
Size 48 (XL).
USED patterns knitting:
Pattern "thread waste" : 1st row: 1 individuals., 1... Phi; 2nd row: and all even rows as look loop; 3rd row: P1., 1 persons... 5th row: as 1st row.
Pattern "SPIT" fit Scheme No. 2 the four hinges of the front surface, where four hinges are necessary to cross to the right ( two loops to remove the auxiliary needle, and leave them at work; knit into the front two loops on the left spokes, and then the front two loops with auxiliary needles) every 8 rows.
Pattern "OVALS FROM SHOT LOOPS ON the WRONG MELANGE FIELD" fit in the Scheme №1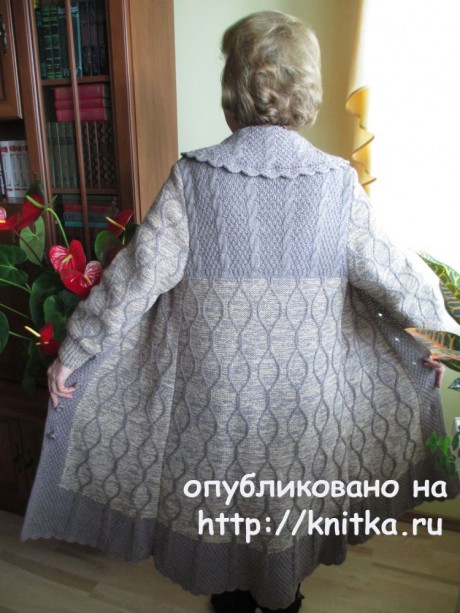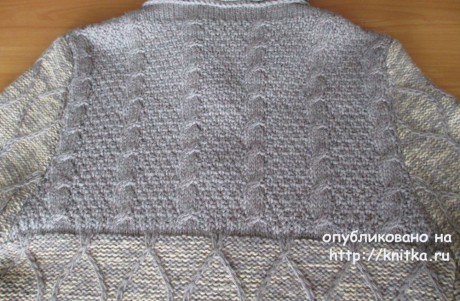 DENSITY KNITTING 10 x 10 cm = 20 loops x 24 rows.
Coat the spokes, job description
BACK. Dial 138 loops including the edge, purl a row leavemy loops. Skip to main knitting: Knit according to the scheme No. 2 gray four yarn repeat and a number, in which four loops to cross to right and purl a row knit into the as look loop. On the field heathered knit according to the scheme № 1. NECESSARILY between the ovals to the purl two together through the loops every 30 rows, to the time of forming the openings on the needle left 97 hinges. The upper back knit according to the scheme No. 2, but between the braids dolino bat to 9 loops "of potency". After the formation of the openings on the spoke should be 77 loops. Knit to the shoulder of the bevel 7 of the rapport scheme No. 2, to the shoulder bevel on the loop 21, the middle 35 of the hinges close in a straight line.
SHELF: Fit as half of the back, instead of the average of the ovals of the back 9 loops strap-"thread waste" for the buttons and loops. Neck oval.
SLEEVE: Dial 51 loop, knit elastic band 1 x 1 8 cm Evenly to make allowances in any way and to increase the number of stitches to 65. Every 6 rows near the edge to make allowances on both sides for sleeve extension.
The COLLAR: take loop 102. Knit according to scheme 2. Between the braids of 5 loops of "thread waste", and left and right for 4 loops, including the edge. In order for the collar fell on the shoulders after 20-th and 30-th rows to make allowances two sides of each "Braid" to increase the number of loops to 146.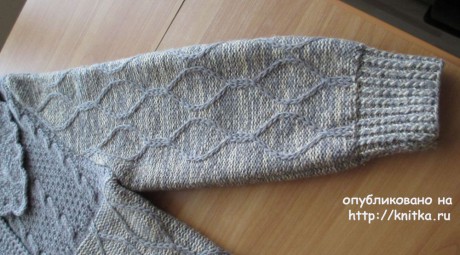 The scheme of knitting coat: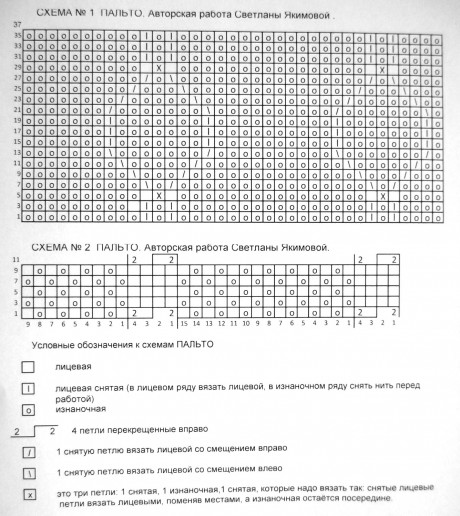 Post author