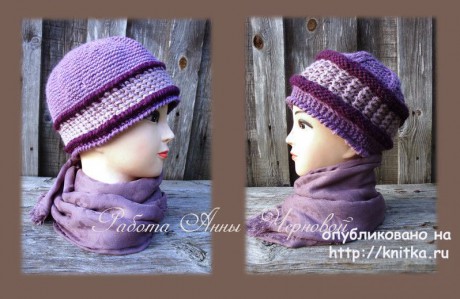 Two knitted hats. The plot is the same - a different approach!
It so happens that linking thing some tools, I want to try to link it to others.
The first cap made a hook in the original description, which does not have the right to publish.
The second cap is knitted with needles, having the same color yarn as the first.
Women's cap knitting description
1.On the spokes №3, scored 7 of the loops knitted headband for head circumference ( 55 cm) ЦВ1:
1 number(persons) - 1 chrome.,5 persons, 1 chrome
2 a number of(Phi) - chrome 1 P1, and 3 persons P1,1 chrome.
2.On the edge of the rim on SP. No. 4 to gain 75 p + 2 chrome = 77 p. thread ЦВ2. 2 rows knit facial loops (garter knit) while adding another 6 loops for the entire series. Total 81 pet.
Knit 4 rows, alternating front and purl rows. so we got the roller.
3. Thread ЦВ3,SP No. 4 knitting pattern American band 5-6 cm
1ряд - 1 chrome, 2 persons P1, 1 chrome
2 row: 1 chrome, K1, yo, stretch 2 loop C/o yo, 1 chrome.
https://www.elena87.ru/202_amerikanskaja_rezinka.php - taken from the Internet.
4. ЦВ2 - 2 rows knit facial loops (garter-knit), then another 4 rows front stitch to create a cushion.
5.ЦВ1 - knit facial loops 2 row, subtract evenly throughout a series of 3 loops. A total of 78 loops
6. knit the crown cap
Formed by the wedges 6 to 13 loops - 9 loops of the front loop in each row and 4 loop pattern American gum".
The first 6 rows knit without obavlenia.Then diminish at the beginning and end of the wedge for 1 loop.The remaining loops are contractible and form a seam, and then rollers to the underside of the cap.The edge of the rim make crochet pattern "crayfish step" rear wheel drive!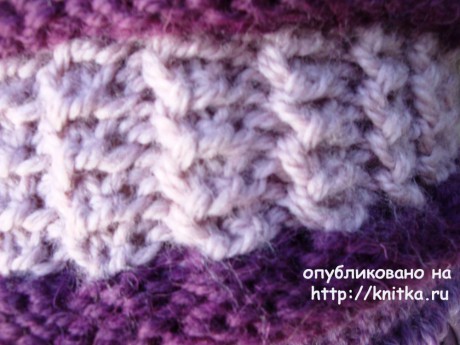 The pattern "American gum" taken from the Internet:
This hat is crocheted:
Post author