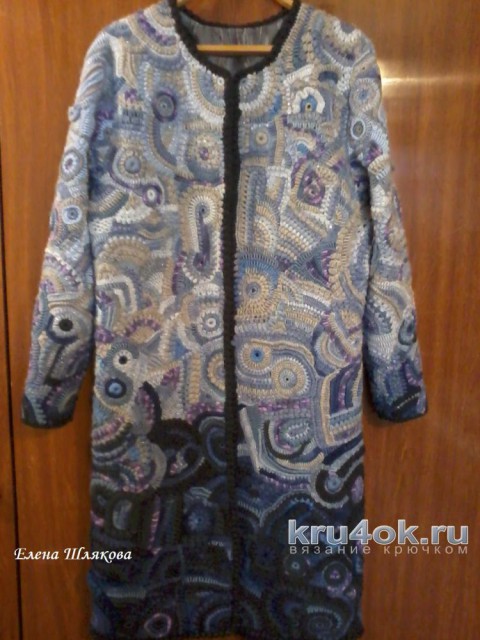 Coat in the technique Friform with the effect of "Degrade". The basis coat of "fashion Magazine. Knitting No. 542". Coat to crochet. Hooks from # 2 to # 8. Thread a variety of: wool, mohair, acrylic, bamboo, cotton, Angora, Alpaca, etc., to coat 46 size went 1500 different yarn. Colors in this coat used 28 colors, from slate to light gray, in the intervals added blue, blue, ink, lilac shades. Also used thread of a tie-dyed, for friform is a godsend, as they allow you to achieve a smooth transition from one color to another.
What is the essence of knitting in the technique friform? - EVERYTHING IS POSSIBLE! There are no restrictions. Just a taste, a sense of proportion and imagination. You can weave fur, beads, fabric, leather. It is also possible not only to knit, and to apply other techniques of needlework: to embroider, to play, etc. Showing your creativity to create a unique thing one of a kind masterpiece that can not at all desire to repeat, even if done by one master.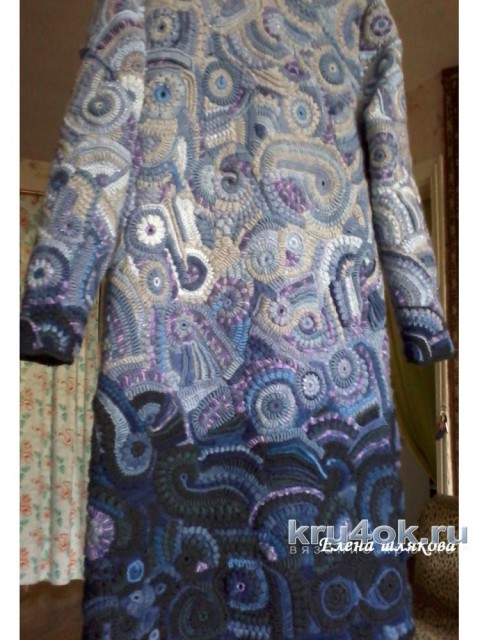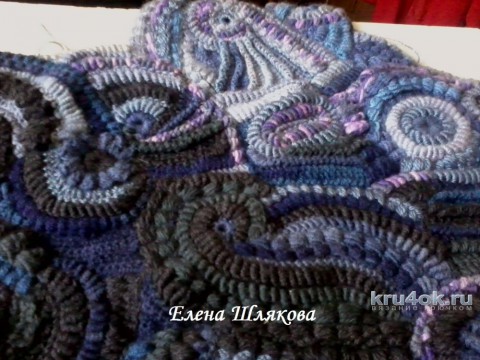 Coat in the technique friform, description
So first as always is the pattern. The work I started with the darkest color, i.e., from the bottom. Friform - a kind of mosaic, so you need to constantly consult the pattern. For example, I worked on the pattern (I have had two of cardboard, and of dense tissue). Imposed scramble is a mini - composition. From ready scramble make a pattern and connected either sew or bind the hook. If scramblase remain small gaps, fill them with small items: "berry", "wearcam", "circles".
IMPORTANT: WORK ONLY ON THE WRONG SIDE. Imposing and laying out the pattern scramble, pick colors to get the effect of "degrade", ie the transition from dark color to lighter. So fill the entire space of patterns, observing a smooth transition from color to color. Also come with sleeves. Otpaivaem. Sew.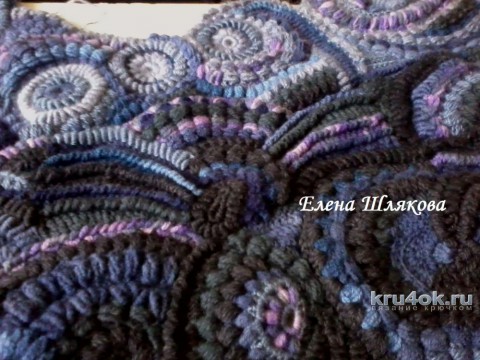 Do the piping on the perimeter: neck, shelves, bottom, fluffy posts. To cut out and sew the lining sewn by hand to coat, lousy zipper - skin coat hooks (so wanted the mistress of the house, she wanted to be seen button). I gathered all the material by which he was guided when doing this coat. There are also master classes and practical advice from the masters of friform Elena Vnukovo and Olga Kozlova. I found them very helpful. There are several schemes of small items to fill small gaps between scramblase. Good luck and light eyes.
The scheme of knitting coat:
Post author