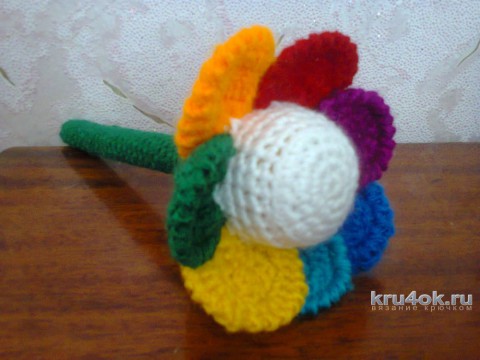 Flower-Semitsvetik. Toy-rattle.
Made of acrylic yarn of different colors. Based on his use of a conventional handle and an egg from kinder surprise. In the box you can put different small materials: Bisser, sand, pebbles, shells, grits, etc. depending on what noise you want to hear.
The work is done St b/n.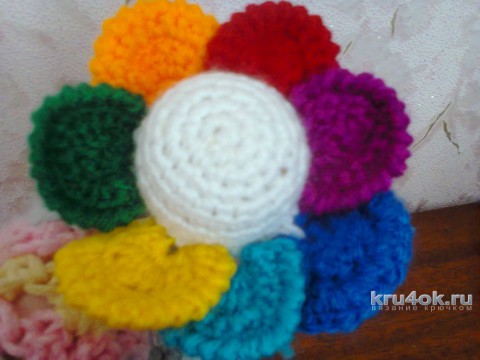 Petal (6-7 pieces):
1 row 2 , V. p., 6 V. 6\n 1yu loop
2 a number. {2 tbsp. b / n in art before. number } -- repeat b times
3 a number of. 12 St. b\n
4 a number. {2 of article 6\n in V. pred. row, 1, article 6\n } - repeat 6 times 5-3 range 18 article b\n
9 a number of 2 tbsp. b / n together, article 7 b / n, 2 tbsp. b\n together. 7 STB\n
10 number 2 article 6\n together, article 6 b\n STB 2\n together, article 6 of 6\n
11 the number of 2 tbsp. b / n together 5 tbsp. b / n, 2 tbsp. b / n together 5 tbsp. 6\n
12 number 2, article b\n together, 4 tbsp. b / n, 2 tbsp. b / n together, article 4. b\n
13 number 2, article b\n together, 3 tbsp. b / n, 2 tbsp. b / n together, article 3 b\n
14 number 2 article 6\n together, 2 tbsp. b / n, 2 tbsp b / n together, article 2 b\n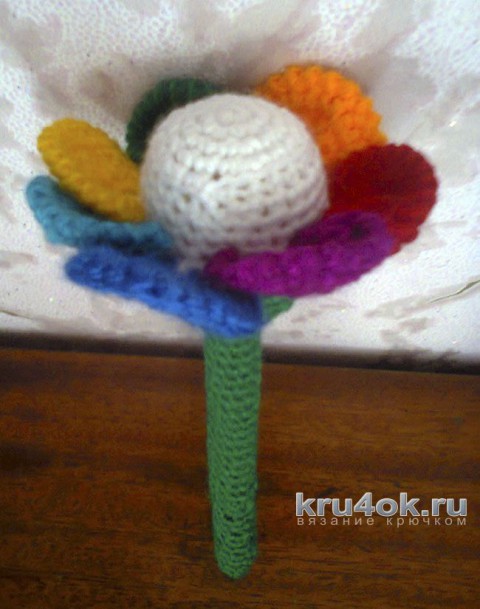 Then the flower is knit from midway
1 row 2 VP 6 tablespoons. b / n the 1st loop
2 a number of {article 2 b\n in V. pred ) - repeat 6 times
3 row (2, article 6\n article before the number. 1 tbsp. b\n ) - repeat 6 times
4 the number of {2, article 6\n article before the series, 2 tbsp. b\n } - repeat 6 times 5-8 rows of 24 St. b\n
9 a number of Folded petals in half, and tie bars connecting them at both ends right to the edge of the midway with the outer convex side of the Thread only to Fill the already associated the middle of a flower filled
10 a number of threads On knit green Knit 24 St. b\n on the connecting bars of the previous row
11 the number of {2 tbsp. b / n together, article 2 6\n) - repeat b times
Row 12 {2 tbsp. b / n together, article 1 6\n) - repeat b times 13-37 row 12 article 6\n
That's the rattle I got))))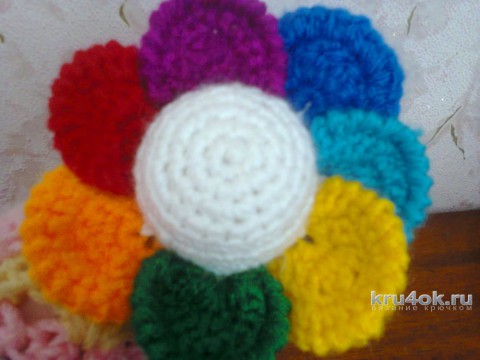 Post author