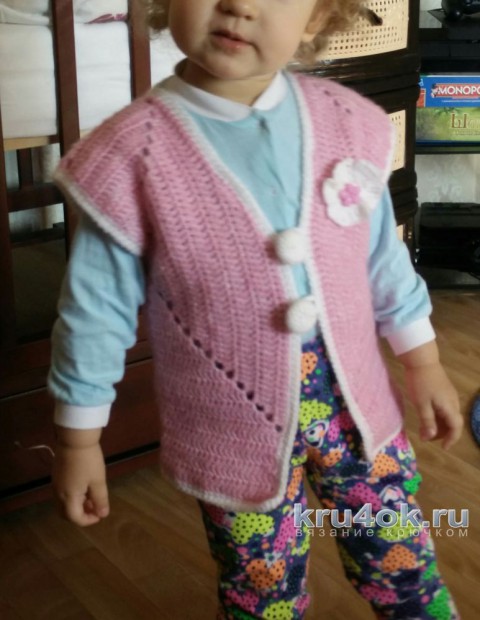 Home crochet vest. The task was to make a warm sweater for your home in cold weather to start the Central heating. Here's the vest fit very simply and quickly. Yarn Pekhorka glamorous, consumption of 100 g + binding and the flower child acrylic. At the age of 2 years.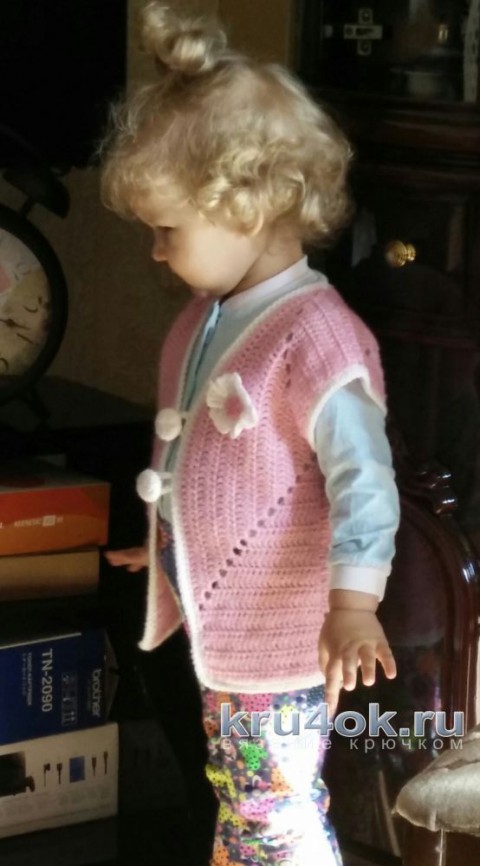 Children's safety vest description:
For backless knit Granny square, starting with 3 columns with nakida (the proposed scheme starts with 5, but conveys the General meaning of increases). So knit 14 rows and go to the knitting rotary series with no increases to the desired length of the back on one side of the square.
Before you fit the 2 parts. For a single part of the front knitting half square rotary ranks. However, I did gain for the Central sector and the upper and lower sectors in odd-numbered rows, and in even in 1 column instead of two. So I knit 12 rows.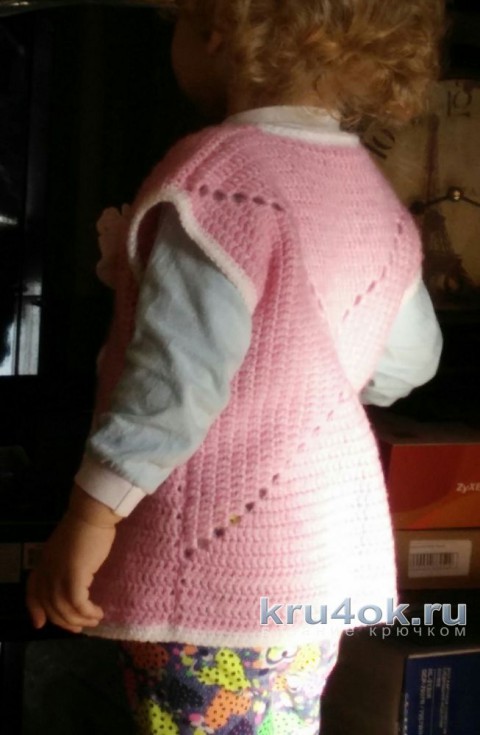 For the formation of the neck in the next part of the ranks of columns with nakida first model to the columns without nakida, then do not dokazyvaet the ranks to the end. So, in the 13th row knit shoulder part and the upper third of the Central sector columns without nakida (for the neck), the rest of the series dokazyvaet as usual.
14 a number of knit Central sector by half columns with nakida, then smooth out polostevichi and columns without nakida for a smooth cut, get to the columns without nakida previous row, turn your knitting. Knit jumper bars, columns without nakida and polostevichi about half of the Central sector, forming a beautiful neckline. Further drawing to the end of the row. With 16 row, knit only the bottom part to the desired length.
Sew the side and shoulder seams.
Banded by two rows of columns without nakida on the perimeter of the jacket and sleeves, at the same time forming a loop for the buttons.
The scheme of knitting:
Post author