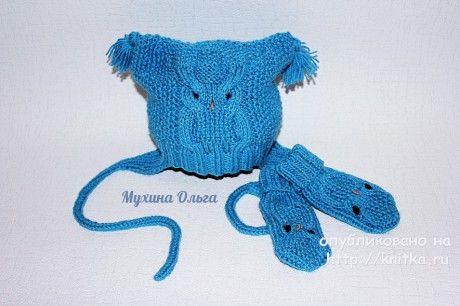 Owl family. Hat and mittens for 1-1,5 year. Knitted from the yarn Baby Wool - BABY WOOLвес of 50 grams Hank length of the Hank of 175 meters in two strings. Consumption took 2.5 skeins.
Cap description
Cap fit 80 loops divided into 5 parts with 16 loops on the ears , the hinges 16 and the head 32 on the face. Originally knit hollow cord, 4 loops then vymazal ears and so 2 of the workpiece on the spokes №3,5 direct band 2x2 , then moved to circular No. 3.5 mm knit eyelet scored 16 loops again 2nd ear so that a few rows without adding the elastic 2x2 to the back was longer cm 1-1,5 cm Then added 32 loop and closed in a circle and continue to knit elastic band 2x2 to my desired height. Then moved on to owls pattern under the scheme, the fabric pattern rice - K1 -1. in a checkerboard pattern. Cap height 17cm .
Mittens description
Mittens - on: spokes gained 6x4=24 stitches knit elastic 2x2 cm 7-8 to wrap up, then added the patels to 31. at a height of 3.5 cm from the gum left a hole for the finger, ( then dovedale is also where the 3.5 cm long) . at a height of 8cm made obuvki with dvug sides. Length from the elastic came out about 10cm.
The scheme of knitting pattern for Owl hats and mittens:
Post author