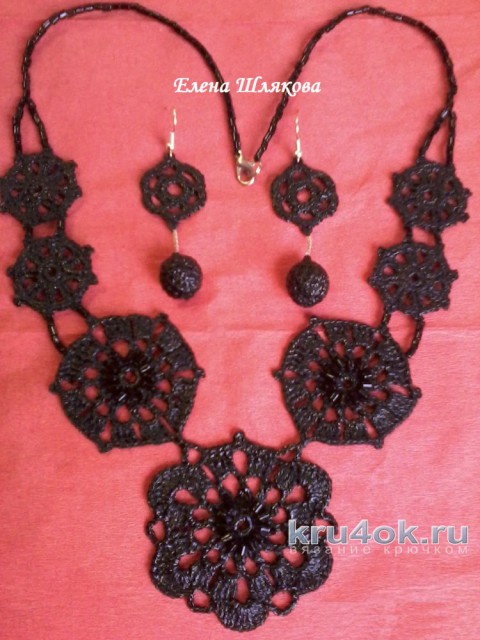 After the next order, I, like any other master remains a great many small Hanks of thread, and not always immediately think of where would accommodate them. Besides remnants of yarn, I had some of the elements (flowers, swirls, circles, etc.). Looking at them I thought, why not use them to make jewelry, such as earrings or a necklace. Some of the products I combine with beads or silver chains. So a collection of my knitted jewelry. I will present all my collection, and now I want to offer you a set: necklace and earrings. This kit will decorate the neck and ears of any, even the most fastidious fashionista. Also it would be nice to get a gift. Here, the main advantage is that it is exclusive, and store this not buy. I introduced the scheme of the necklace, but again I want to note that it is not necessary to follow the proposed scheme. Get creative, play with your imagination and get a unique thing.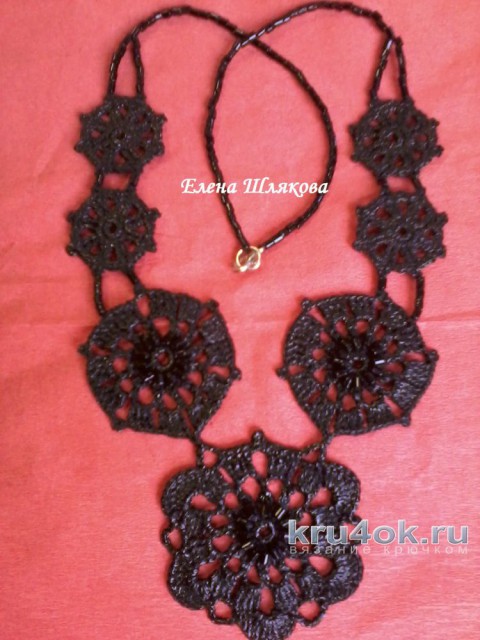 So, to create a kit you will need: remnants of cotton thread, light silver earring, clasp for necklaces, glass beads or beads to match the yarn, the remains of a silver chain and colorless nail Polish. First I knitted the main motive of the necklace, and it tied the average motives. Separately knitted 4 small motive. For earrings vymazyvaja any two motifs, and two balls (balls to keep in shape, I just took the appropriate size of the two beads and tied them). Then, I several times the usual coated colorless nail Polish, and gave to dry thoroughly (the more coats of varnish applied, the harder will be the product). Begin the Assembly: sew motifs necklace as prompt fantasy glass beads or beads, strung on strong thread the beads in the desired length and connected motifs, as shown in the photo. Attach the clasp to the necklace.
Collect the rings to the chain with different ends of the sewn threads in the tone, the motive and the ball, and attached to the motif of enclosure. Ready! The scheme is attached. Good luck and light eyes!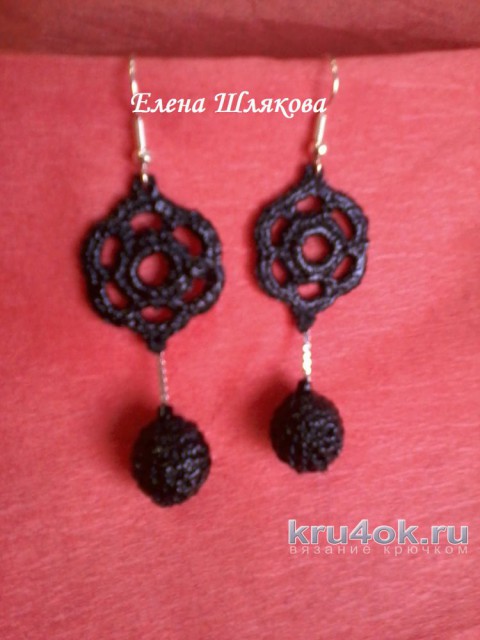 The scheme of knitting: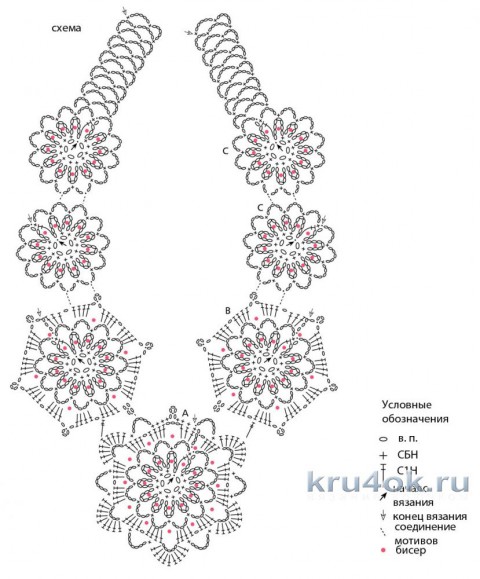 Post author