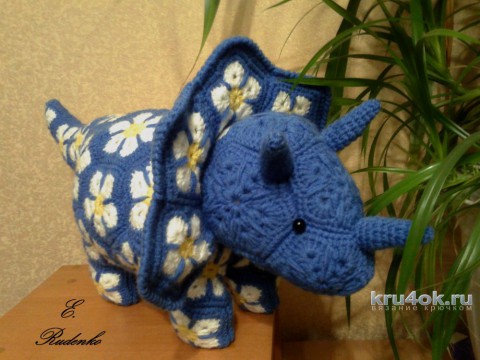 That's the kind of tubby I knitted baby gift for the New year. Knitting used yarn: blue gold Lana ( the wool 240 m in 100 g) 200 gr. Kartopu race (acrylic 300m. 100 gr.) white less than 100 gr. yellow less than 50 gr. The hook No. 3, stuffed with synthetic padding.
Number of motifs :
quadrilateral-2pcs.-1цветной and 1 plain
the pentagons - 27 pieces-3 one-color and 24-color (10 PCs in "the hood"),
hexagons - 19 items-3 odnotonnymi 16 color,
heptagon-1pc. color,
octagon-1 EA. color.
The height of the toys with the "hood", 33 cm length with tail 57, see additional photos indicated the numbers need explanation, as well I attach the scheme of knitting motifs.
How to assemble the Triceratops, click here
The scheme of knitting toys:
Post author