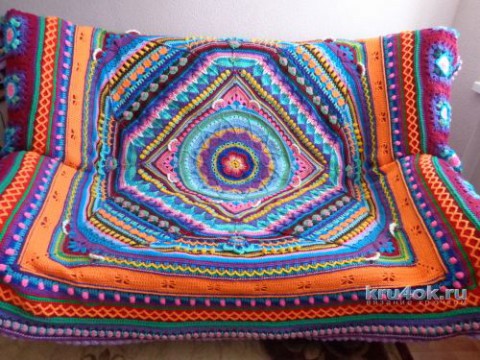 Dear needlewoman! Happy to submit to your approval its very great job PLAID. Time for this miracle it took about 3 months: October, November and December 2017. 31 Dec I dovedale last row in this project. In General, do yourself a gift for the New Year. Hook it took me a No. 5. Size 180x240 turned to see what I wanted was fully closed sofa. Was a bit gaudy.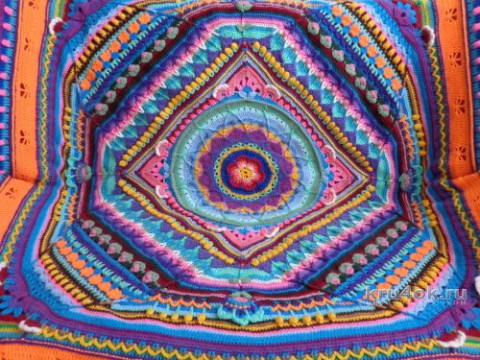 This is my first of the kind product. I'll knit another one, I will consider all the mistakes that have been made. But tried to select a color harmony. According to the authors of the project each row fit in the other thread and does not begin wait loop, which ends the series. Yarn needed very much. You can say, barely lasted to the last row. At the end of the knitting already of what is left. Yarn 100% acrylic 3 strands. The rug is very thick, like a blanket, so heavy. I think that more than 5-6 lbs. I Have no such scale to determine its weight. Will have to wash in the Laundry, in a big car. Knit together with Natalia Alimpieva. Wonderful mistress! Explains everything clearly and in detail.
The link to the video on knitting plaid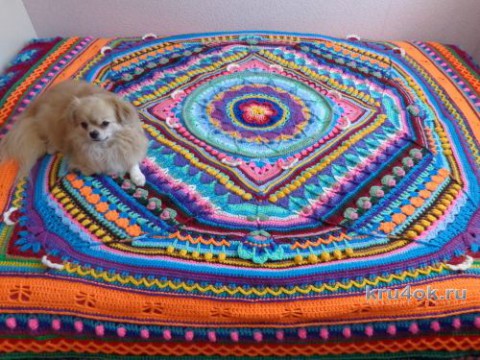 Believe me, without it, nothing would come out. In the technique of knitting such is wisdom, you wonder how you could come up with: roses, leaves, Lotus, pop roots, CONSTANTLY NEED to COUNT the LOOPS IN EACH ROW, or NOT GET the PICTURE AND EVERYTHING WILL be SKEWED and many other things.
If you correctly pick the color, then this rug is like a painting, a work of art. Here, perhaps, and all. Easy on eyes and good works.
Post author