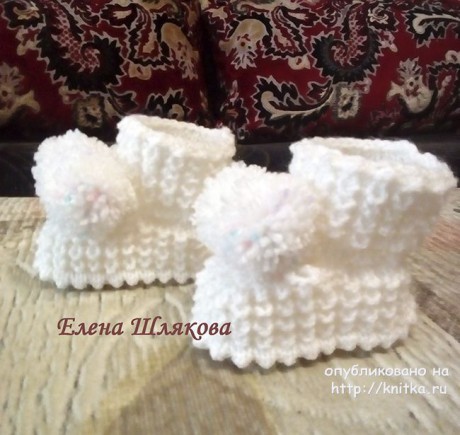 Bound booties for a newborn weighing 3 kg, on discharge from the hospital.
Yarn Pekhorka children's series "Children's tenderness" 50 gr. - 235м., 25% Merino wool, 30% viscose, 45% pan surround white. Spokes № 1,5 and a hook № 1,5.
Crochet baby booties, description
We print on the spokes 37 of the loops and knit 1 row to the front. A Central loop note (I usually celebrate with a thread of a different color). Then knit the sole of the 8 rows of garter viscous, adding in each facial series of 4 loops (1 after the first loop, 1 before and after the Central loop 1 and before the last loop). Allowances are finished crossover loop to avoid holes. The spokes should be 53 of the loop.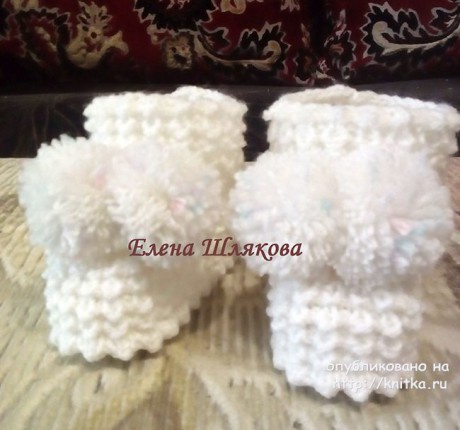 Knit the kinks: are finished 3 rows front stitch, starting from the front side of the work. In row 4 (wrong side) knit: metal edge, yo, 2 stitches together purl, etc. until the end of the row. Yo do not crisscross to make the holes. Then another 3 rows front surface. 4 row, fold the knitting in the holes and are finished by 2 loops together – one loop with spokes and a single loop of the first row of cloves. And so to the end of the series.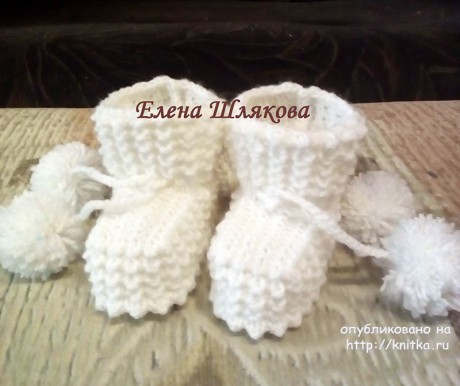 Knit the side part. I knit the pattern "corn" 16 rows - get number of 4 "pips". Then knit toe booties (fit the heel as at the toe), pattern "plain corn" (see the description of the beanie-cap): 13 loops of purl, the next 27 loops divide into 3 parts, knit the middle 9 loops facial, and at the end of each lines are finished the ninth loop together with the loop side pieces until there are only 9 secondary loops and 13 loops on each side. Are finished a number to the end.
The spokes 35 of the loops. Continue knitting the upper part of the booties: 2 rows front stitch, then make holes for the lace: chrome., 2 persons., 2 persons. together, 1 yo and so on until the end of the row, and 2 rows front surface. Then dokazyvaet top booties to the desired height of the pattern "corn". Loop closing. Carefully sew the booties. Knit cord hook air loops, threading the cord in the holes, make pompoms. Sew to ends of cord.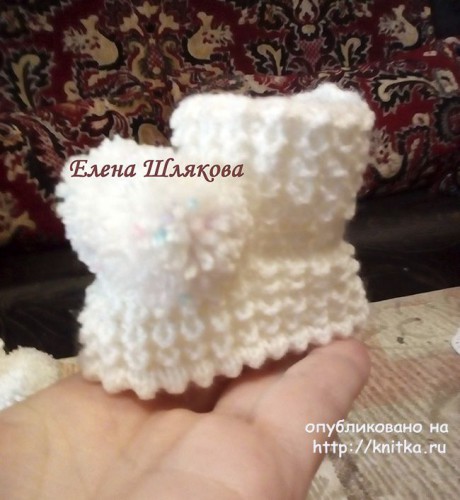 Post author