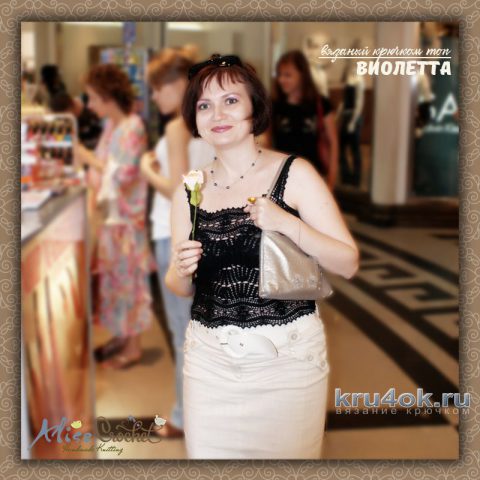 Project date: 2008
Technique: crochet in the technique of "briggsae lace".
Size: 44-46.
Materials: yarn, cotton, color is black.
The source of the description of the model: the magazine "Cinderella knits. Special issue (85)".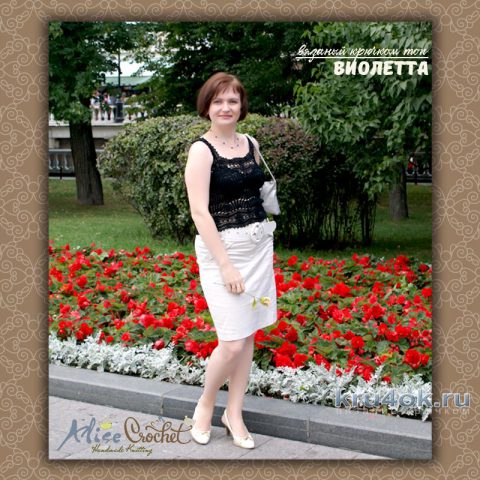 One size.
YOU will NEED: 300 g of white yarn, a hook № 1,5.
The DENSITY of KNITTING: 16 x 18 p. R. band A (I tune) = 4 x 11.5 cm
Crochet top, description:
for the main part of the link bands A and b, alternating them. as shown in the figure. Start each strip is thus: to link a chain of 16 air. p. b air. p. to turn, then bind 5 "cells" in filet pattern according to the scheme A-1 for the first strip. Then knit across the row 144 p., 18 p. repeating that form the motif. To connect the outer arches and implementation "wavy" ornament after 3 air. p. 4th arches, to introduce a hook under the arch of the previous 3, n. 1, extrude 2 n, 1 n and 2 n. knit into the hook, then finish the arch 3 air. p.
To connect 114th R. 1 R. 1 polost. b/n, as shown in the figure to form a circle. To associate the voice of A-2 is similar (see diagram) connecting at the same time the outer arch with a strip of A-1 polost. b/n of the Stripes In the a-1 and A-1 to associate with the schema. Then tie a strip of A-3 is similar to strip-2 and strip A-4, A-1. In each space between the stripes And tie 1 flower on 2-m a circle on polost. b/n and join the arch under the scheme. To carry every halter, provatas 64 R. as for the strips and attach as shown. The lower and upper edges of the top and straps to tie round 1st round edges.
Top hook the scheme of knitting:


Post author