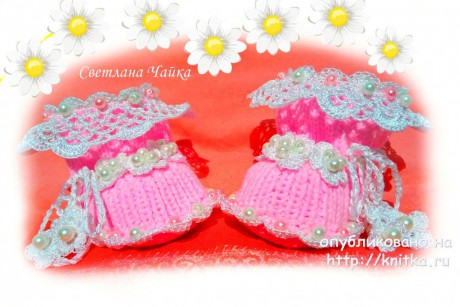 How to crochet at the age of 6 months.
Start knitting booties will soles. We print on two spokes 8 loops + 2 edging. Knit garter knitting. The first lines are finished with no gain loops, and the second already start to make allowances in accordance with the scheme.
The gain performed in the following manner - remove the first (edge) loop and a jumper wire between the loops introduce a needle - it turns out the extra yo, which are finished inside a loop. Also do addition and before the last (edge) loop.
In the third row also provide allowances according to the pattern, and then knit straight blade 7 series and again are finished with a number of increments on each side.
Knit straight fabric additional 10 to 12 rows, depending on how long you need sole. Baby older, respectively knit more rows for a newborn would be enough and 10 rows.
6. The running series Obafemi hinges for this front edge loops are finished the two loops together. The last row is not closed.
7. Leave the last row on the needle and dial loops to the side walls of booties for 14 loops on the side and 8 stitches on the heel, on the toe remain the same 10 loops.
Now knit 10 rows of 1x1 elastic fabric is formed of the side wall booties.
It's time to close the sock. To do this, we perform the subtraction on both sides of the toe. Are finished the front row of the sock (10 loops), with adjacent spokes of thrown one loop and her are finished with the last loop of the tenth series, which will form the sock booties.
Expandable knit and knit and toss a loop from the neighboring spokes and are finished two loops together. Thus, knit sock booties knitting while on the neighboring spokes will not remain for 8 loops.
Are finished another front, a number of toes, making the twist on each side. So we got the 8 loops on each needle.
Next, continue knitting in a circle the front rows, and perform 1 row for lace, that is, two along the front, yo again and two together. This number then to insert tasevska that will capture a's booty on the leg of the newborn baby.
Knit another 8 rows of the front and close the loop.
Fasten thread on the wrong side and cut the tail.
Crochet knit lace out of the stitches. Insert it into the holes on the's booty and tie a bow. Crochet make tying veeremi the soles: 5 St. CH 1 coupling, through two loops.
The top is banded crochet arches of air loops. To embroider with beads, to decorate with knitted flowers.
Post author