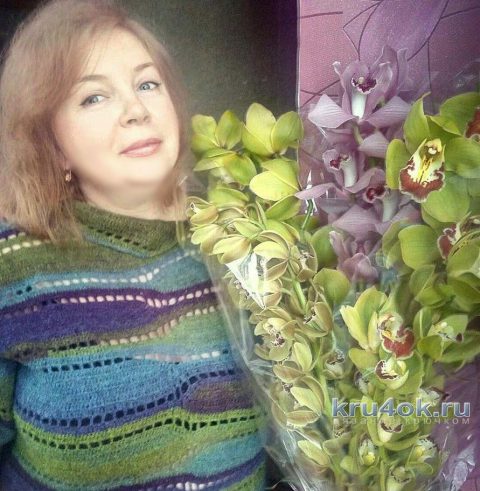 "Ah! How do you want the lavender to get lost." The sweater is made of yarn County 8/1 (yarn virgin wool), so very warm. Hook No. 2, size 48-50.
Versatile, you can knit as summer, winter and demi-season thing. Yarn consumption small 200-250 grams (depending on size, the sleeves and collar). Fit easily and you can knit from printboy, sectional or remnants of yarn.
My model of "County", because of the large section I broke off. Before you knit a sweater yarn is not passed processing.
The collar is made asymmetric, the winter model and added a 3/4 sleeve, longer sleeve looks worse, and just stripes I didn't want to. The sleeve was knitted from the armhole.
Once 48-50 gained a chain of 160 stitches (2 loops of the edge, 18 loops neck, I have them marked with markers 142 loops rapport).
For forehand scored a chain of 160 who.loop, and continue on sh 1 and 2 row, 3 row: 3 loops rise (edge) and 71 loop column 1 nakida (said 71 loops and 18 loops the middle) turned the work and continue on CX). Fit the mirror back towards the front.
The scheme of knitting sweaters:
Post author