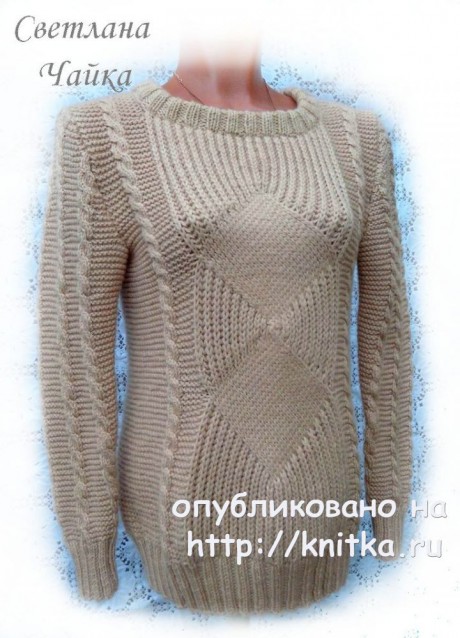 Women's cardigan associated spokes № 4.5 out of gentle Merino wool yardage : 100 gr. 200 MT. Consumption size 44 570 gr.
Straight silhouette, set-in sleeve. The sweater is very beautiful falls on the figure and can be perfectly compatible with a lot of things.
Description jumpers
The Central pattern:
patent gum, lozenge of crossed 2 front loops , diamond starts with 1 reticle , the second row is added at one loop with two sides for expansion of diamond, etc. For subtraction the sides of a rhombus, two sides unbroken by a single loop.
The above chart shows the front and purl rows. The scheme is shown as it looks from the front. Therefore inside-out rows marking "front" of the fit wrong, of cross 2 front loops left running as cross 2 purl loops on the left.
Spit:
Braid of 4 loops. decussation to the left across the 6 series.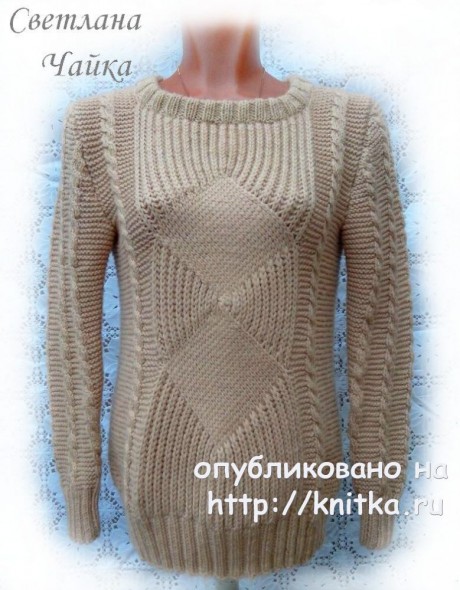 A text explanation of how to knit "DIAMOND".
Rhombus consists of 18 loops (it's only on diamond). A rhombus fit gum 1x1 (polupoltina, but don't bother for this). Provarite in 16 sample loops elastic 1 × 1 (in the middle of the following 2 loops are crossed (first bind the 2nd loop, then the first, at work, or before work doesn't matter because the inclination of the diamond can be in any direction. Crossing loops diamond pattern must start with the front loop. And all the loops diamond pattern knitted on the front side of the front, on wrong side-purl. Then tie 18 loops with a rubber band. Knit as you wish). Turned work in purl knitting.
Tie rubber band already not 18, and 17 loops. The eighteenth crossed the loop with the following loop (flip the work and make sure that the loops cross one way). next, cross the next 2 loops, and again the next 2 sang, the diamond began to expand and rubber band to narrow) then provarite 15 loops of a rubber band. (edge not point) turned the knitting on the front side. Knit 14 elastic loops, next sang crisscross in the same direction as before. Just need to cross 5 pairs of the loops (could be wrong, further to 16 loops with a rubber band.
Turned inside out. Knit 15 elastic loops, 16 "woven" in a rhombus, i.e. you cross, then another 5 pairs of hinges, and then 13 with a rubber band. Overturn. And so until the width of the diamond will not "absorb" all the loops of the elastic bands on both sides. Then in descending order. I advise you to always turn the product on the front side to make sure that the loop of the diamond crossed right.. After 6-7 rows of diamond pattern will start to emerge on both sides and knitting will become easier.
Jumper by needles, diagram and pattern: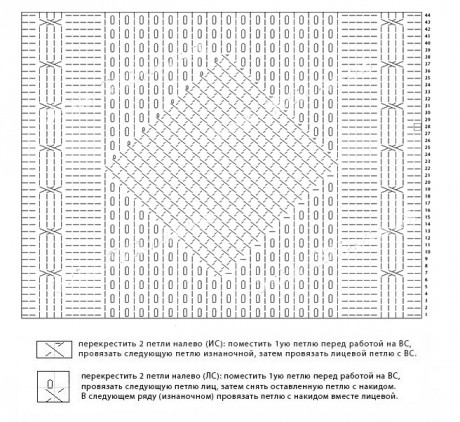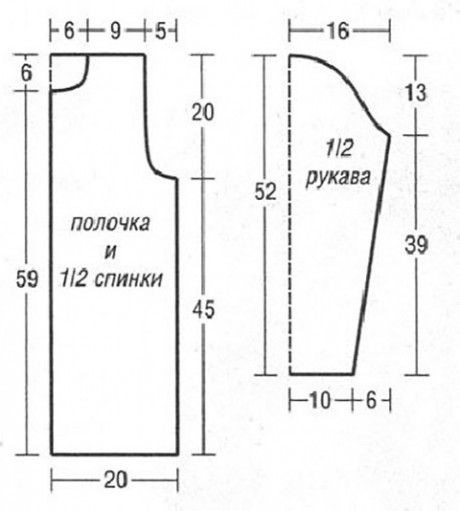 Post author