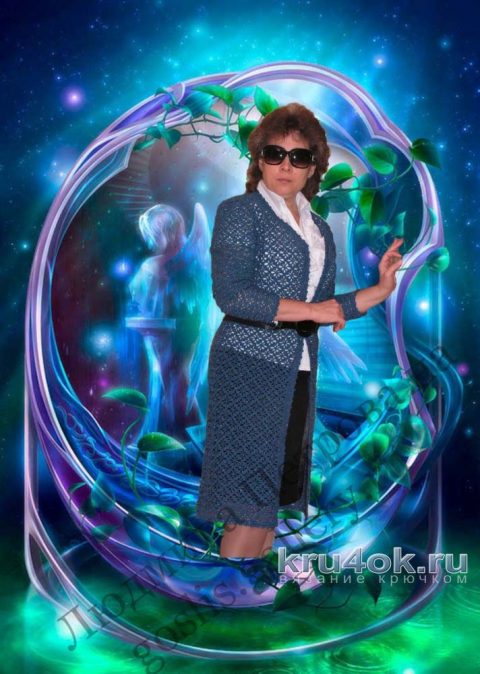 This cardigan was tied five or six years ago, custom... Yarn Pekhorka "Flickering" 430 m in 100 gr. Composition: Acrylic volume -96%, Metanet-4%. Mechanic adds to the product a festive appearance. Hook 1.5 mm. 50 size took nearly 6 skeins. Fit quickly and easily, and the result is bound to make You happy. The original yarn used with the thickness of 300-310 m long and 100 gr, but I brought the knitting.
Cardigan crochet description:
Dimensions: 42/44 (P1).
You will need: yarn Bouton d'or: 15 skeins Surya (55% viscose bamboo, 45% of soybean, 156 m/50 g), dark blue (1164); the hook No. 2. Patterns: art. b/n. V./n. * ... * repeat pattern between asterisks as many times as indicated in the description, or the end of the row, unless otherwise specified. 2 tbsp. s/n, closed together: *on the kid, enter the hook in the 1 n., 1 yo. pulling the loop, 1 naked, to stretch the thread through 2 n.*, repeat 2 times, 1 yo. pull the thread through the 3 loops are on hook.
Fantasy pattern: see charts.
Density knitting, fancy pattern: 35 p. and 12 p. = 10 x 10 cm
BACKREST: to dial a chain of 170 air. . fancy knitting pattern
to shape armholes each side on the diagram. Using 101 cm (121-m p.) to finish the job. RIGHT SHELF: to dial a chain of 85 air. p., and knit fantasy pattern. 80 cm (97th p) to generate the primes on the left sleeve under the scheme of the back. Using 91 cm (109-m p.) to form a right neckline according to the scheme. Using 101 cm (121-m p.) to finish the job. LEFT SHELF: knit in a mirror image.
SLEEVE: to dial a chain of 85 p.. knit fantasy pattern under the scheme.
ASSEMBLY: Perform shoulder and side seams. To run seams sleeves, sew sleeves in armhole. At the bottom of the sleeves and along the edge of the product to crochet 1 p. art. b/n, 1 p. art. s/n, R 1, art. b/n. 1 R ades. follows: *2 tbsp. b/n, then from one article to tie 1 tbsp. b/n, 5 air. p.. 1 tbsp. b/n* (at the corners of 1 St. knit 2 tbsp.).
Cardigan crochet scheme:
Post author