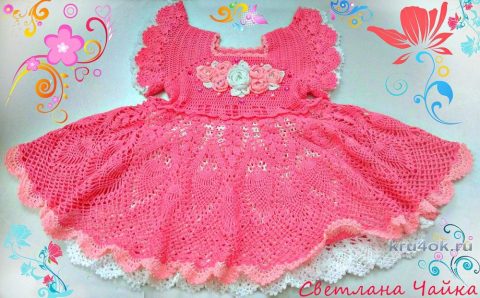 Fishnet pink dress crochet "little Princess".
Pink color, the best choice for little lovely girls. Dress associated by a girl 4 years height 110 cm
The dress and the underskirt skirt is made of mercerized cotton. The pink yarn. Composition: 100% mercerized cotton.
The length of the thread 240 m. 50 C. Consumption 200 gr. hook No. 2.
White yarn for the bottom of the skirt and sleeves - ANNA 16 (of SEAM).
Composition: 100% mercerized cotton (yardage : 100 gr. 530 m), the flow rate of 120 gr., hook № 1,75.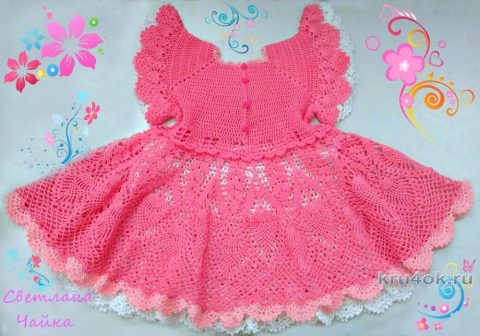 Dress fit from the top, the first yoke is recruited from her skirt. The lower skirt from coquette is typed on the reverse side. To hide the junction of the bottom of the skirt with a basic, on the front side of the knitted edging from meerkov ( 7 tbsp. with n , Conn. p. and so on. through every second loop). The bottom skirt is knitted mesh, hem openwork border scheme( as on sleeve).
Knitted dress embellished with applique, sequins and beads.
Scheme crochet dress:
Post author