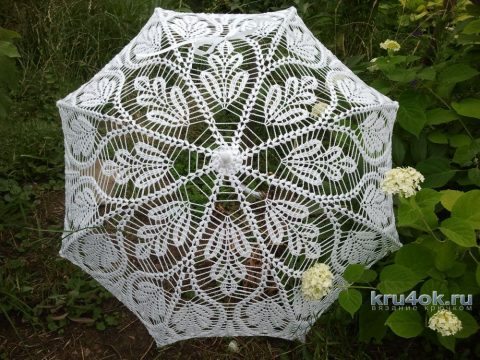 Fishnet umbrella. Crochet openwork umbrella we will need the umbrella-cane into 8 spokes, small, from 45cm to 60cm (length spokes). Can and adults and children, the main thing that spoke was not with the groove, and solid, and then quickly bend.
Still need safety pins for fixing the knitted fabric on the waterproof fabric of the umbrella.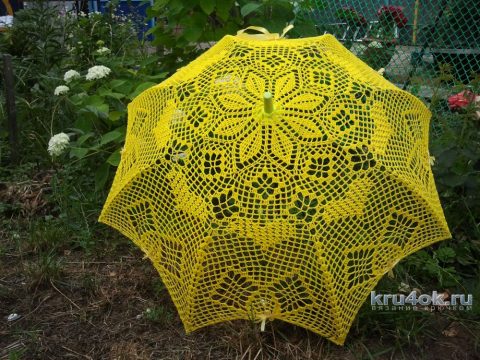 It is better to take the umbrella with the twist-off cap, but if not, recruit the initial chain of VP, closable in the ring, so the cap it passed, and then under the cap is tight is tightened the ring, it is possible for the reliability to fix transparent glue for fabric, but not necessarily.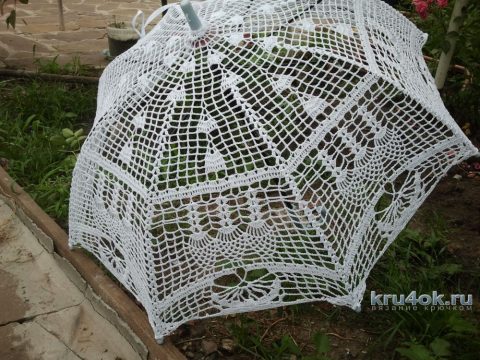 While I knit, do not remove the fabric from the umbrella, it is convenient to mount and try, and that you have to do, because the scheme will usually take a napkin, they are flat, and the dome-shaped umbrellas, so schemes need to adjust, especially in the last rows.
When will bind itself tightly sewn to the plastic clips at the ends of the spokes, where they are inserted, remove the native cloth of the umbrella bent and bound, then tied in two or three places on each needle and all, the umbrella is ready!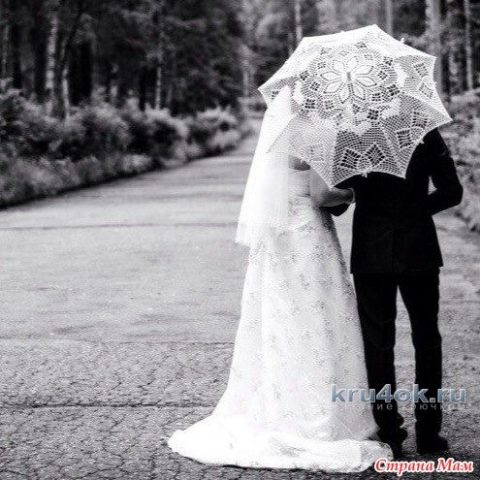 White umbrellas used yarn YarnArt Violet (280m/50g) and Vita Pelican (330m/50g) hook number of 1, 30 and hook No. of 0.95.
For yellow Coco VITA cotton (240m/50g) hook number of 1.60.
All of the umbrellas left on 150g of yarn.
Blue knitted from cotton thread Pekhorka Successful (220m/50g), took almost 150 grams, hook№1,3.
The length of the spokes of the umbrellas 56cm and 45cm.
Add the scheme of knitting umbrella:
Post author