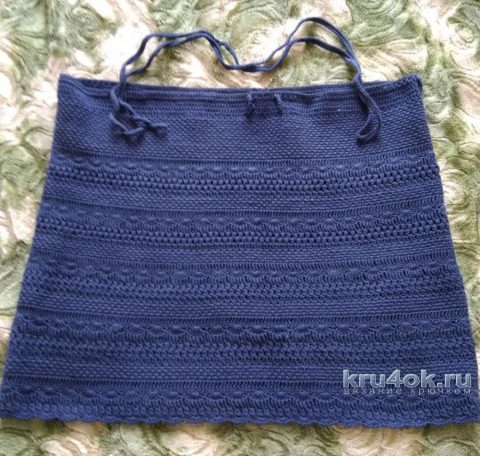 Size 42. Hook №3. What is the yarn - don't remember. Consumption: just over 400g.
In contrast to the descriptions of all the skirt is knit one crochet. The tape is not inserted, and use a narrow belt or knitted from the same yarn cord (a chain of air.p. and tie on both sides art. b/n)
Description of skirt from the magazine:
Dimensions: 34/36 (38/40) 42/44 You will need: 400 (450) 450 g purple yarn Baumwoll-Cablee (100% cotton. 150 m/50 g); hooks № 2,5, № 3, № 3,5, № 4 and № 4,5; elastic length of waist and 3 cm wide
Pattern for trims: art. s/n. Each circular row start with a knit 3 air. p. the beginning instead of 1 -th St. s/n and finish 1 unit. article in the latest air. p. start.
The main skirt pattern: number of loops multiple of 6. Knit circular rows scheme. Each circular row start with air. p. beginning, the number of which is indicated in the diagram, instead of the 1st p. and finish 1 unit. article in the latest air. p. start. The diagram shows a circular last row of the pattern for the strap and the beginning of the circular series.
The sequence is basically the pattern: repeat 3 times from 1st to 4th circular p., 1 time from the 2nd to 5th circular p., then repeat with the 6th to the 17th circular of R.
Density knitting, hook № 2,5: 23 p. and 15 p. = 10x10 cm
Attention! Skirt knit circular rows from the top down without additions (due to the different sizes of hook).
Job description: crochet № 2.5 to associate a chain of 180 (192) 204 air. p. + 3 air. p. lifting and tie belt 2.5 cm pattern for bars. Then knit in the specified sequence: crochet № 2.5 to 12 tie circular p., crochet No. 3 - 21 circular R., hook № 3,5 circular -12 R., a hook № 4 -12 R. circular, other circular rows knit crochet № 4,5. 24 cm. volume = 86 (92) 97 cm and the width end of the lower edge = 106 (112) 118 see Through 58 cm from the waist to tie the 8th circular p. and work to finish. Sew from the inside under your belt elastic tapes (to measure the girth and lightly proposait wide).
The scheme of the skirt and the pattern: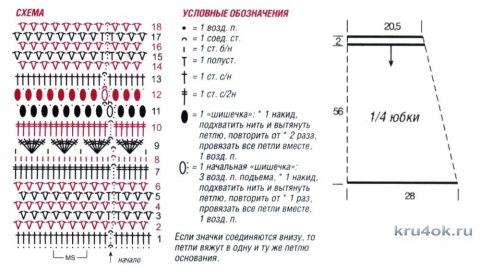 Post author