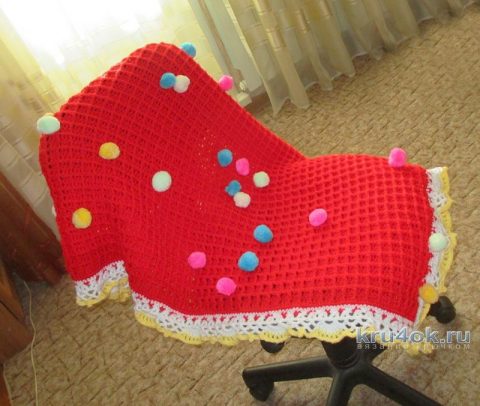 My granddaughter was born and I decided to tie her blanket as a gift.
That's what I did. The figure searched for on the Internet. And I liked this.
Plaid waffle pattern is very soft and fluffy yarn small pompoms.
The size of the blanket is 1.5*0.80 cm
The pattern for the blanket description
The first row fit by columns with nakida.
Further, in each even row, 3ВП, 1 front raised convex column, *1 С1Н, 2 raised bar*.
In each odd row over the relief columns of the previous row – 2 column with nakida, over columns with nakida – relief convex column. Border fantasized herself.
The pattern for the blanket Wafer, a video lesson
Post author