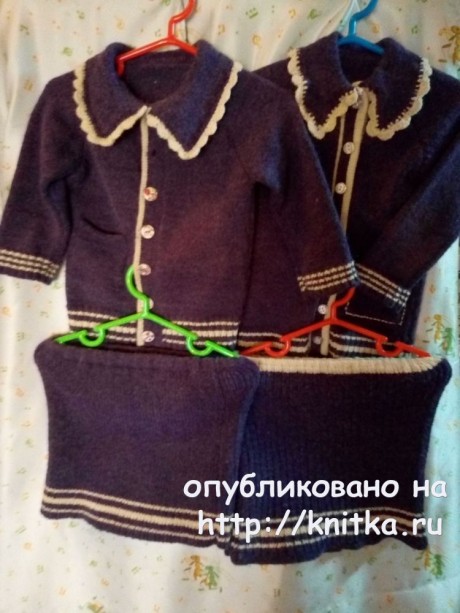 Classic suit knitting for girls 2-3 years old. Knitting my daughters in the spring. The suit was knitting two, the description of the same. Rashodnie has only the color strips. Thread Pekhorka creative. Composition -- 17% viscose, 13% spandex, 13% PA, 57% of the pan. 50g/240m. Needles 2.5. The Work Of Ivanova Lyudmila.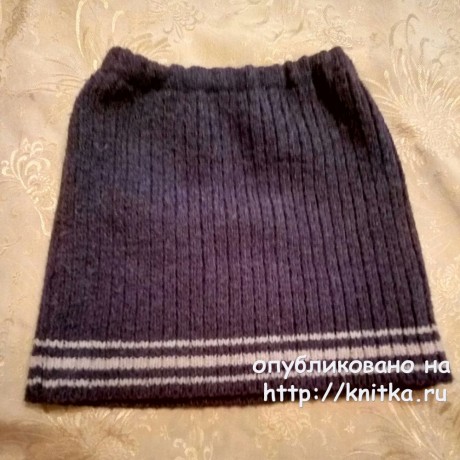 Skirt knitting needles description
Knit two blades. Dark-violet thread scored 89 hinges double kit. Knit from the bottom up with a rubber band 2P. individuals, P1. In purl rows 2 Phi. hinges, 1 front. (Elastic 2×1)
Knitted 4 rows.
2 rows with white thread,
4 row Purple
4 row white
4 row purple
2 rows white
Next purple knit 90 rows. For the gum to knit 26 rows persons. stitch. Loop sacrati.
The second rear part of the knit symmetrically.
Half stitch, sew the hem of the gum where the first row of the front surface. To thread the elastic.
Jacket, job description
The spokes got a 92 loops double set. And knit 4 rows of elastic 2×1 . Further, the alternation of bands like the skirt. After alternating bands of knit facial surface 90 series.
Continue to do obuvki Raglan. In every fourth row subtract 2 loops on each side. (this facial series 1 the loop of the edge to remove, 2 facial together with a slope to the left),
Glad to purl.
On the wrong side of the edge to remove 1 , 2 purl together with the slope to the right.
A total of 17 times ubavo. 34 loops on each side. (34+34=68).92—68=24 stitches. Their transfer to the auxiliary thread, or on the additional needle.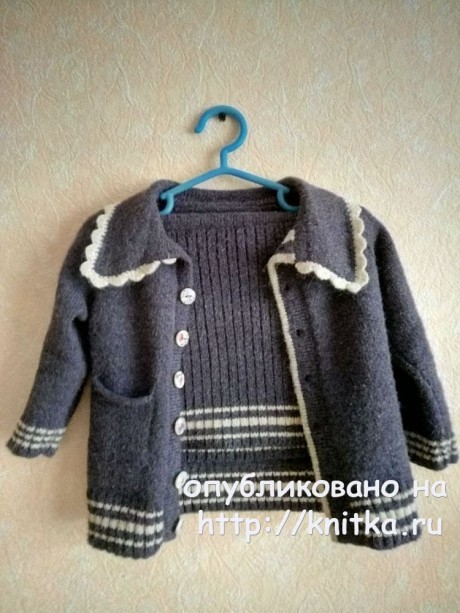 The right shelf. Scored on spicy double set of loops 46. Knit alternating rows as on the back. Further individuals . surface 90 series. Do obuvki Raglan as on the back. Diminish to one-fourth of front row 17 times.
At the height of 84 series from the beginning. surface to close the collar on the left side least 4 loops. 86 row to close another 2 loops of the collar . (46-34=12-4-2=6)the Remaining loop be left closed for extra pin or thread.
Left shelf. Knit as right, ubavka from the opposite side.
Sleeves. Recruited 60 loops and knit as back. Alternating bands of knit
every 2 rows. In each 10 row on each side . Knit 80 rows. Turned 80 loops.
Continue to do obuvki Raglan as on the back on both sides.12 loops.
To connect all the parts. On the edge of the shelves to dial loops and knit the bar. On the one hand to uniformly make the holes for the buttons.
Loops with additional threads translate to circular needles and knit collar. after obyazat crochet white thread.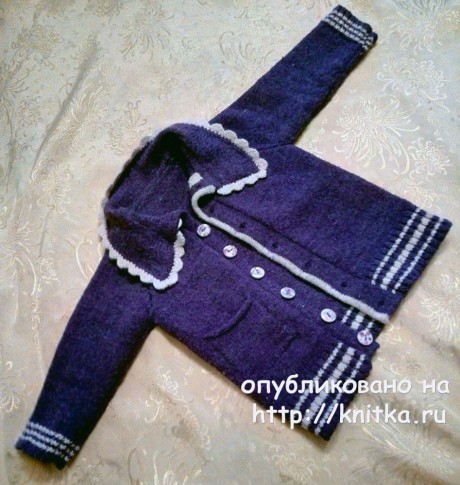 Post author