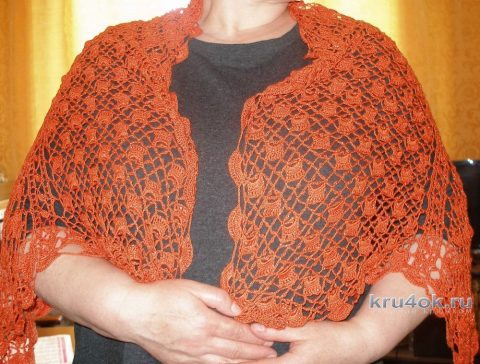 Like the pattern of a Fashion magazine, I wanted to tie a scarf. And when he was almost ready, urgently needed a gift for a birthday, and they are very useful. Yarn - microfiber with lurex, took about 5 Hanks of 50 grams, hook №1,25. On the border did not have enough yarn, so I knitted her first row, and so decided to leave. The most important thing that the celebrant was pleased with the gift. Pictures taken on her and on me, to see how the stole looks from the side.
Description of knitting magazine:
First link side portion according to the schemas A1 and A2, then on the side pieces A1, striped knit according to the scheme In (a repeat of 6 rows). In the last row in a column with nakida tie the opposite lateral side of the Palatine, connected according to the scheme A2. Tie the working edge of 5 rows, referring to scheme S.
Post author