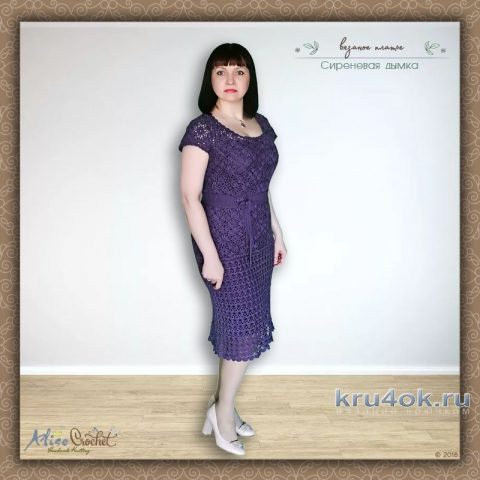 Size: 46-48
Materials: yarn Alpina Lena, Macedonia, 100% mercerized cotton
color: No. 44 purple
the consumption of yarn: 6 skeins
Hook No.: 1,7.
The source of the description of the model: the Fashion Magazine No. 597, author Alain Zinoviev.
The description of the dress from the magazine at 42-46 size
Before starting, prepare the pattern in full size on the sizes or dimensions proposed in the journal (figure a). The main part of the dress is gathered from the motives, which are joined together while crocheting the last row of the arches of the loops.
Crochet tie 1.5 spiral 32 square motif on the scheme And guide them in the process of knitting the last row of each square in the ring, which will be located at waist level. During Assembly, guided by the pattern (figure a). Tie a hook 1.75 33 the same square. 8 of them in place below the finished ring, and the rest on top, forming the front and back of the dress.
To align the hem, armholes and neckline tie hook with a 1.75 front and back 18 rows of triangular motifs according to the scheme B, attaching them to the squares while crocheting the last row of the triangle. For each sleeve tie crochet 1.75 to 2 square and 4 triangular motif. Vsheyte sleeve in the armhole.
Tie the neckline and bottom of sleeves veerachai scheme V. From the hip line down (triangular motifs) tape the lower part of the dress scheme For this tie triangles 1 next to the PRS - 448СБН, 2nd row: shell 5 С1Н, 3rd row - 56 arches of 4 VP. Continue work on the scheme 4-7-th rows. Then do another 48 rows of repeating 5 times the pattern rows 8-15. Finished next from the arches (number 48) finishing of С2Н with Pico (number 49).
Scheme crochet dress
Post author