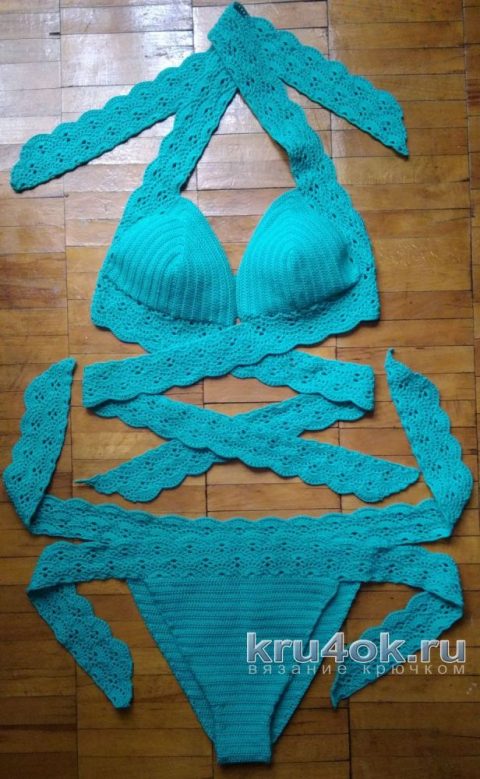 Lace two-piece crochet.
In the midst of the summer season, I want to share my experience knitting crochet swimsuit.
The decision whether to pick him up, I made quite quickly, I was influenced by two factors: I saw the beautiful lace scheme, proposed by Lyudmila Petrova (work schema lace), and in the yarn shop I found a wonderful color that left no doubt: the swimsuit!:)
To create it I used yarn Alize Diva Stretch (8% PBT elastic, 92% microfiber acrylic, 400m/100g, color 610 "Emerald"), hook number 2 and unsuccessfully ordered a swimsuit from China, which was not a pity, from him I took the cups and padding for the bottoms). If there is such a swimsuit, you can destroy the unnecessary bra, as I learned from sellers at the fabric store, separately now the cups are not sold, so you have to show the wonders of resourcefulness:)
For Russian size 44-46 will need two skeins of yarn, there is a small ball.
The scheme of the pattern from Lyudmila Petrova I used as ribbon lace, which frames the swimsuit and serves as a drawstring. I was knitting it separately to the bodice and swimming trunks (only ties for the neck, knit on the basis of existing cups), then combined with the details of the swimsuit simple columns without nakida. Associated lace in three rows, which is optional, you can do one or two more like it. If you knit like me, in three rows, the strings are rather bulky, which may not all come to mind. The edges of the ties I made sloping at an angle to avoid direct completion.
The top is the crosshair in the front and tying in the back, you can do that without a crosshair and there are ties for the neck. Cups of the bodice were connected according to the scheme (attached). The number of rows for a Cup depends on breast volume. At the end of the cups, on the basis of one of the side panels are knitted ties of necessary length. The length of lace you need to determine yourself, based on the fact that one motive need 15 loops (VP) +1 V. p. to the total number in the scheme in the second row of arches in the three V. p. fit in one VP, the tune gets 10 VP, I wove arches in two V. p., since otherwise the pattern comes compressed and crumpled, a total of one motive out 15 V. p. Next, fit the base (which will connect to the cups) its length is also individual. Upon completion of the foundations of combine it with cups of columns without nakida. Needle with large eye sewn inside the bodice cups from a swimsuit or bra.
Bottoms are classic shape, tie at the side. Tally from the middle, each half is as simple as a blade of columns with nakida. The beginning is about 20 VP (depending on the size of the number of loops can be varied).
The rear part fit with three raises on each side every second row (i.e. one row with increases, the second not, the third again with additions, etc.). the height of the bottoms of the individual, it is necessary to remember that the top will still be a lace waistband with a drawstring. Front part fit with the extended part between the legs is around 10 rows, then begin adding. Gain three column with stitches on each edge, but in every third row to front different from the rear. Upon completion of the bottoms tying them on the edges of the bars without nakida (you can add elastic thread), then connect them with a pre-tied lace straps. Sew the lining.
Get a beautiful lace swimsuit does not lose its shape in the water (tested), sits perfectly and looks and go to the beach to sunbathe and swim:)
Scheme crochet swimsuit
The pattern of swimming trunks can be viewed on our website in the article:
Post author