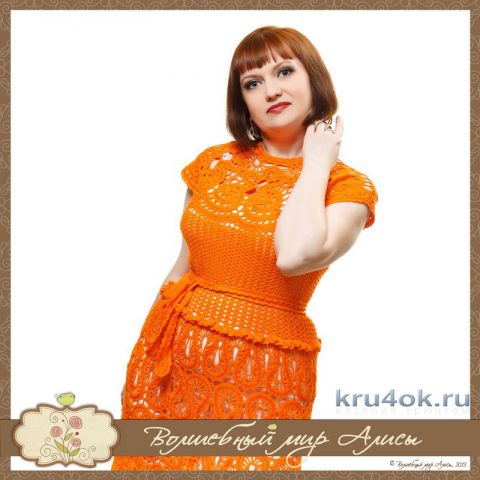 Size: 46-48.
Materials: this dress was.
Yarn Vita Cotton Daisy.
composition: 100% mercerized cotton.
color: orange - 4422.
Yarn: Vita Soft Cotton (for decoration chain stitch "pigtail").
color: orange - 1825.
The source of the description of the model: the model Natalia Dry FASHION magazine № 2 (546).
Dress "Blizzard from the author's collection "of Bruges. Seasons" - can leave no one indifferent! Incredibly feminine, delicate, it is made with remarkable skill, the perfect fit and contemporary silhouette.(FASHION magazine № 2 (546)).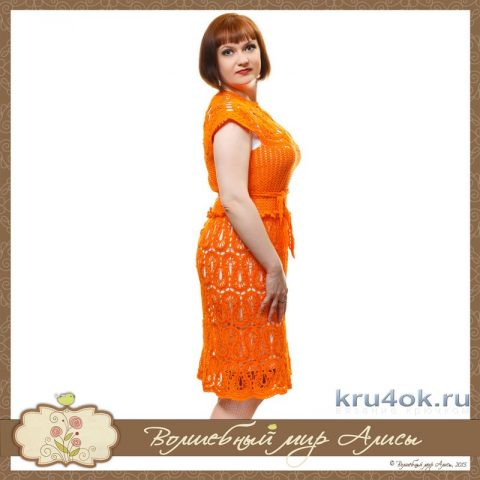 The description of the dress from the magazine
Size 40-42.
You'll need: 500 g of cotton yarn (100 % cotton, 283м x 50g), 50 g of the silk
filament to finish filigree; hook № of 0.7.
Start by performing a pattern according to your size.
Tie openwork yoke according to the scheme 14. If the head size is more than 57 cm, suggest coquette "cut" and make the clasp. The upper part of the yoke tie direct with braid in a circle, performing in between the webs. In each "eye" of the braid tie 5-6 SC. The yoke divide into 4 pieces and knit bodice pattern show: 1st p.: *2 С1Н General base , 2 VP*, repeat 1st row. Finished direct briggsae braid. Decorate yoke with filigree white silk threads, making a chain stitch "pigtail" on the perimeter briggsae braid.
To direct attach tape strips (7 strips) that are knitted according to the scheme 14 and having scallops in a checkerboard pattern. Adjust the size (extension) of the skirt by increasing nacido in festoons, and after the first three lanes and adjust the hook from 0.7 to 1 mm.
In the last 3 lines of festoons, perform 4 nakida in the circuit 14 instead of 3. the Bottom of the product treat a narrow Ruche: in each "eye" direct tape attach the 3-lug of "Ruche". The same follow Ruche on the bodice of the product.
Scheme crochet dress: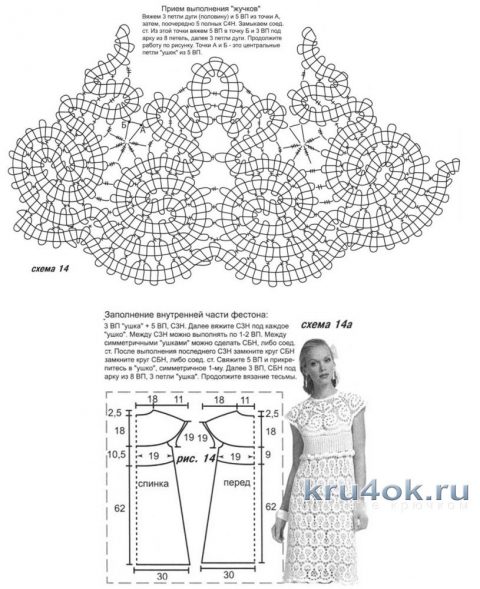 Post author