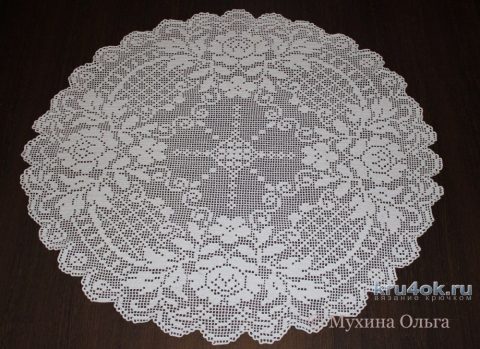 The Work Of Olga Mukhina. Knitting Openwork of Pekhorka (the summer series of Italian technology). 100% mercerized cotton. In the reel 50, g - 280 m. spent 6 Hanks. Size 100х92 see the Manufacturer recommends hook 1-2mm, I've been knitting 1.25 mm.
You can knit in the middle, but I (from experience) is knit from the bottom in this scheme, starting from the 7 th row and next on the scheme(given the 1/2 part). In the end I am finishing is not over scallops. Refer to sgame: X - 4 patent bar (it is slightly above normal column with nakida and just below the column with two yo and more dense. Thanks to the patent column, the cells be more correct (including square) shape.
Knitting patent bar is different from a crochet column with stitches that loop on the hook promazyvaetsya in three steps instead of two. Do yo. Enter the hook into the loop of the base and pull out the thread. Grab the thread and pull it through only one of the first, the loop on the hook. Again, grab the thread and provarite together the following two loops. Again, grab the thread and provarite the remaining two loops.
Patent column ready. At the beginning of the row, instead of 3 loops rise, you need to knit 4 air loop for column with two brides, the empty box - the patent 1 column 2 air loop and again the patent bar. The napkin at the end of work to wash(I wash in machine at 30°C in a special bag for washing clothes), then a little starch and allow to dry on a horizontal surface in the expanded form. Good luck!
Scheme knitting patterns doilies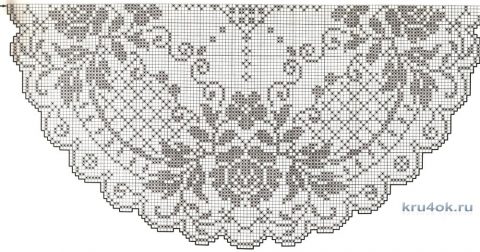 Post author