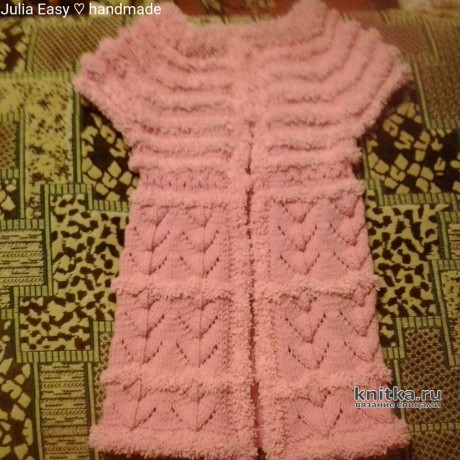 Cardigan for girl 2.5 - 3 years. Length just above the knee. Consumption of yarn is AUSTERMANN Merino 105 150g and 50g boucle yarn (matching colour and thickness). Circular needles N5, N7 hook. Buttons - 3 PCs.
How to knit a cardigan for girls
Fit from top to bottom, a single sheet, Raglan, without vyvazhivanija Rostock.
Start knitting with boucle yarn. The initial perimeter of the neck about 40 cm (a bit less). Recruited to distribute loop as follows: 2(3) loops on each reglanbuy line, 2 edge, 1 loop for each strap. Of the remaining loops for the back 1/3, 1/6 on each sleeve, and 1/6 for each of the shelves.
Knit the front stitch, making allowances on both sides of neglinnoy line in every second row. Not to forget to alternate the yarn (possible options 3рх4р, 3рх5р, 4рх4р, 4рх5р), based on the quantity and consumption of yarn, and most good combinations. Key features ~12 - 14 cm, with the last series (before close-loop sleeves) are knitted boucle yarn.
Then remove all the loops (left shelf + back + right shelf) on one needle. Knit into one lane (!) the strip, the main yarn, then boucle.
At this stage the count and when switching to the main yarn evenly around the row to make allowances so that the total number of loops on the needles was = 9 times x 11 loops openwork pattern (circuit pattern is attached on the photos) + 2 x strap 1 loop + 2 edging. A total of 103 of the loop. Tie 3 rows elastic 2x2 (because the number of loops is odd, then the center back to tie 2 and 3 of the same loop). In the next front row, make holes, you will see a ribbon (cord-string): reversed loop - back; front - two together, yo. In the purl row, knit in pattern, nakida wrong. And 3 rows of elastic.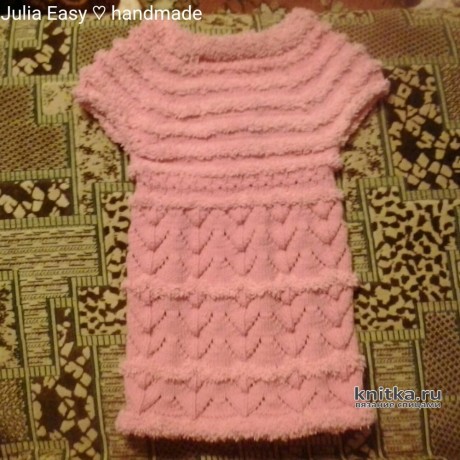 Now, knit, alternating stripes of boucle yarn and an openwork band of the core yarn (focusing on a photo or in its sole discretion).
To finish knitting planned length (or depending on the quantity of yarn) with boucle stripes.
The edges of shelves tie hook boucle yarn 2(3) rows of SC, in the last row at the same time making chain loops 3 loops for the buttons (at the level of the gum and above).
Sew on buttons. (Photo of them yet).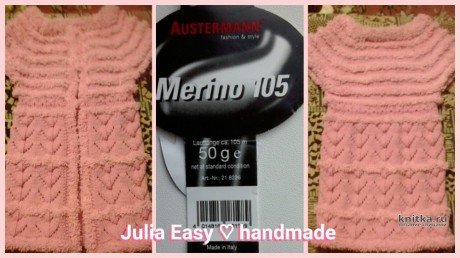 I apologize in advance for the quality of photos, because taking pictures of fast for me, not planning anywhere to put. A reshoot can't, since the cardigan is already at his little hostess.
The scheme of the pattern for the cardigan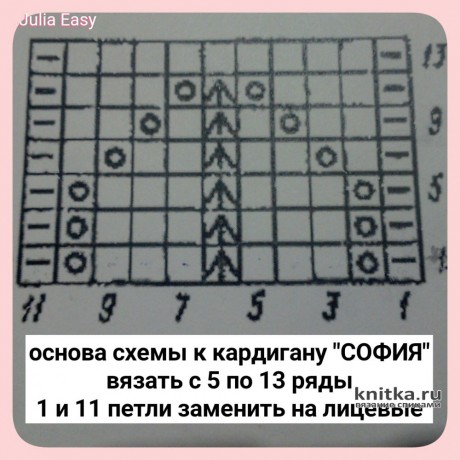 Post author