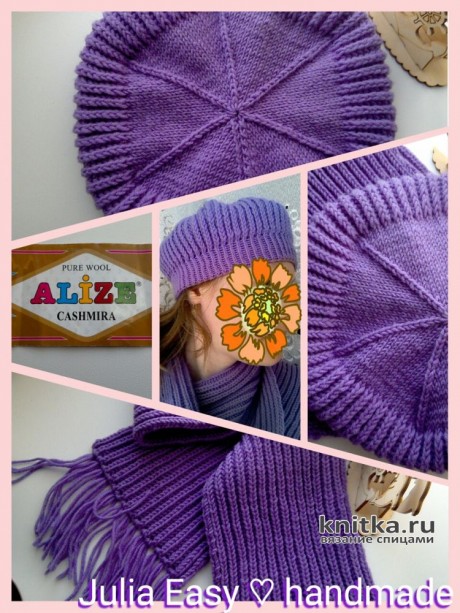 Cap-beret and scarf - the first work sent to our the winners of the contest "Hats and kits".
Fit the kit quickly and simply. It is well suited to most things for everyday wear.
Yarn ALIZE cashmira (100% wool, 100g, 300m). Despite the fact that it is 100% wool, to call her barbed can't someone not cause discomfort (for me, highly allergic, it is very important that during the knitting, so the sock yarn did not cause any irritation). Stands up well to multiple (manual, 30℃, with a special tool) washable, no deformation, not kosmatitsa. Consumption for the whole kit 300g ( ~ 2/3 of the roll left on take, the rest of the scarf). Circular needles N3.
CAP-BERET DESCRIPTION
The head circumference of 55cm.
Connected the forward and reverse rows. Behind the joint. The diameter of the beret 24cm.
Used technology: dual-band (hollow)*, British band*, a facial surface. *note - facial loop knitting crossed.
So, let's proceed.
Recruited 132 of the loop.
Knit 26 rows (4 cm) dual band. At the same 132 loops 30 series (8cm) English band.
Then divide the loop into 6 equal portions (wedges), edge loop is not taken into account. Knit the front stitch. In each front row do obuvki in 5 wedges 3 stitches together knit in the 6th wedge (through its middle will be the seam) - at the beginning of the series after edging the 2 loops together with a slope to the right at the end of the row in front of edge 2 loops together with a slope to the left. So knit until until the spokes will not remain 12 loops. Contractible thread remaining loops and neatly sew the back seam.
Our beret is ready.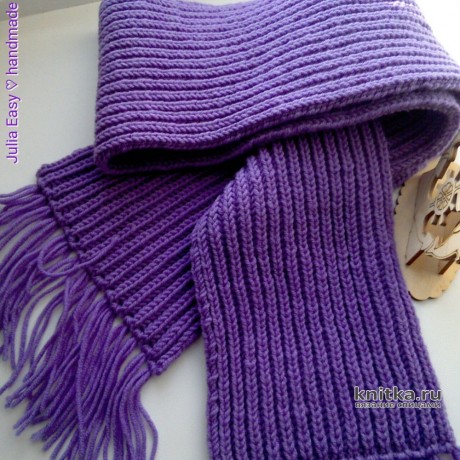 SCARF DESCRIPTION
14cm x 116cm (excluding fringe).
Recruited 32 loops and knit waffle-knit.
To decorate with fringe.
Post author