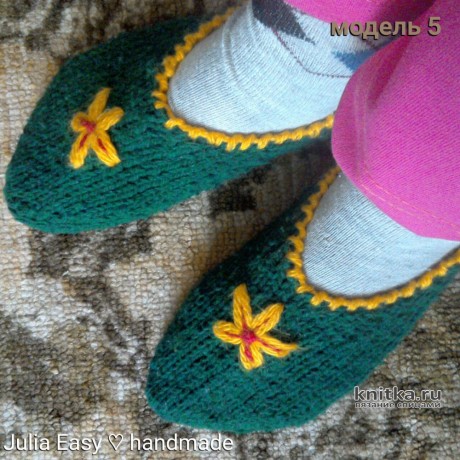 Model No. 5. Size 39.
Begin knitting with heel. On the spokes № 3 (here, as you conveniently can on 2 hosiery, circular, but of socks and go a little later), dial 26 loops and knit the front stitch 13 rows.
Since the 14th of a series not stopping to go to the hosiery needles. Divide the knitting into 3 parts: 10 stitches on 1st needle , 6 stitches on the 2nd needle, 10 stitches on the 3rd needle. On 6 Central loops knit the heel directly under the General rules. When the spokes will be only 6 loops dialed on the sides of the braids of 7 loops on the 1st and 3rd spokes. On the needles: 7P + 6P +7P = 20 points. Ie, we need to add another 20 (24) of the loop = 10 (12) of hinges at the beginning of 1st and end of 3rd needle. Knit direct and inverse series, making 2 increases in each of the front row. When the total number of loops on the needles will reach 40 (44), it all depends on the width of the girth of your foot, turn all the loops on 4 needles 10 (11) stitches on needle. In this case, note that the junction of the 1st and 4th needles will fall to the mid-sole, and the junction of the 2nd and 3rd spokes on the middle top of the imprint. Then the knitting will go in a circular series.
Provyazat 8 - 10 circular rows, try transactions. From about pinky start to do toe by the General rules.
Ready to oblige a deal with hook. I used "crayfish". And decorate with embroidery or crocheted applique.
The last picture is the yarn from which usually knit transactions, socks, Slippers for yourself and your family - Caucasian yarn in bobbins.
Knit and wear with pleasure!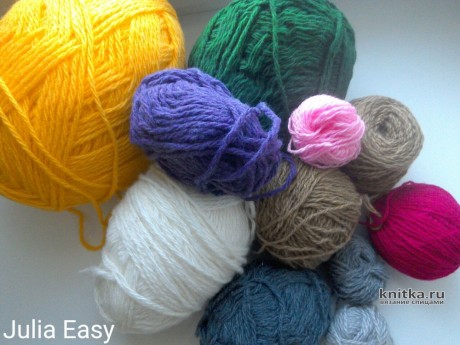 Post author