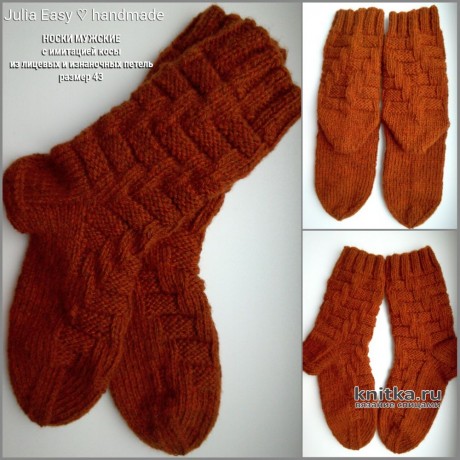 Recently I came across quite interesting, in my opinion, the pattern "KOs imitation of facial and purl loops". And seeing as I knit the parcel with the socks for the family of my brother, the first experiment using this pattern I decided to spend it on socks.
About how it was and what the result is, my little master class.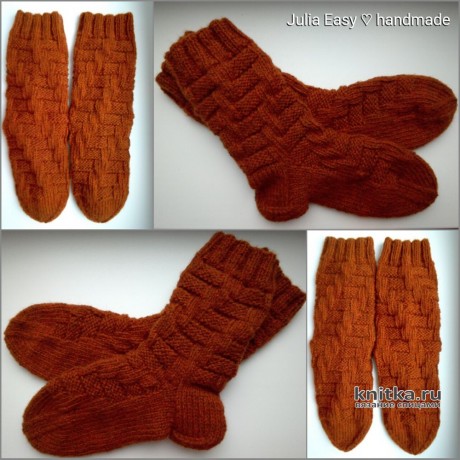 Yarn, as usual, used Caucasian wool (less than 150 g). Spokes N 3,5 socks. Foot size 43.
A little bit about the pattern. Very easy fit, well visible in the knitted fabric, so there is no need to constantly look into the scheme. Because it's no braid, but only its imitation, then you do not need an additional needle for the crossing of the loops. However, for the same reason, do not expect the effect of true braids. Basically, for those who do not have the skill of knitting KOs or if you want to knit something in a hurry, especially without complicating the work, this pattern is a real find.
Note. When knitting a straight heel I retreated somewhat from the standard calculations. But that's my personal preference specifically, in this case. Which method to use (as when knitting the heel and knitting the toe) - classic described in my MK or my - You decide. Any good will which, first, can communicate second, be comfortable on the foot, for which you knit.
How to knit men's sock knitting master class!
Socks knitting, the scheme of knitting:
Post author