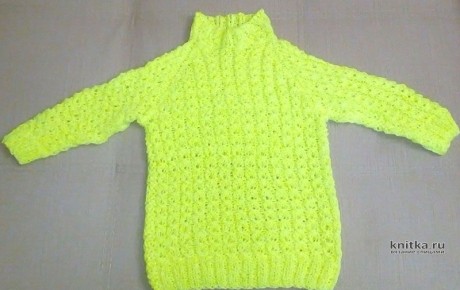 Jacket children for 1.5-2 years old, color lemon. Yarn from Troitsk Busy Bee Bee for hand knitting 100% acrylic skein 100g, length 500 m. On the shirt it took 1 skein of thread, connected by the spokes № 2,5. Knit in front, back, sleeves, banded Raglan from the bottom up.
Description of pattern:
The number of loops multiple of 4 plus 2 edge.
1 row(license side): edge. *P1., 3. Then count 3 loops back to pull a third loop onto itself and to throw over 2 stitches, P1, * edge.
2 range(Phi. party); banding, *., .., yo, Phi.*, edge.
3 series (LS): edge,*. back, yo are finished the front loop over the front wall, ., Phi., edge.
4, a number (IP): edge, *persons, 3. persons,* the edge. Repeat 1-4 a number of.
Post author