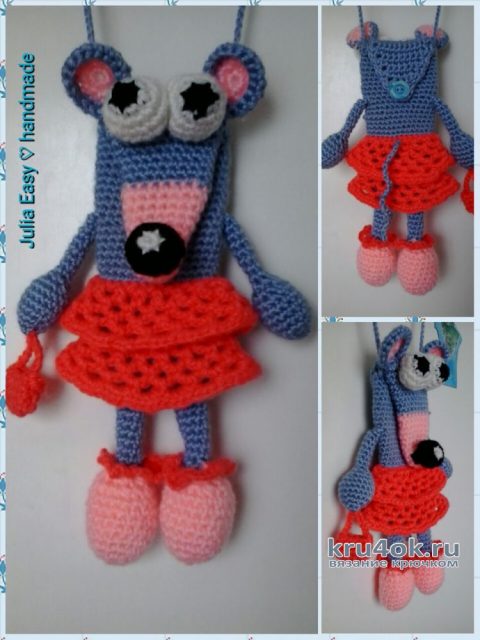 Seeing this "pretty woman" on the Internet, I wanted to try to associate such mysou. The daughter of my girlfriend like this gift very much. Girl named her angelina ballerina as the heroine of a children's cartoon.
The main part of the purse is made KARTOPU flora (100gr. - 230m, 100% acrylic) hook number 4. Also used remains 100% acrylic, cotton and wool blend yarn. Hook picked up under the thread (respectively 2 - 4).
To do someone's exact copy of the goal did not put. I liked the idea. It was enough only pictures.
If in General, the process is as follows:
Knit cover (body of the mouse) to the size of our smartphone (I knit spiral columns without nakida, You can use any method convenient for You). Scheme for case attached.
Knit face (cone, spiral columns without nakida). To get a cone during the knitting of the spiral columns without nakida in each circular row to do less than 6 increments (3-5), you can alternate rows of increases without them. Less and less gain, the more elongated it turns out the muzzle.
For the eyes and nose are knit circles (diagrams for circles attached), the diameter of which will satisfy our idea. Then 2-3 rows exactly. Continue knitting symmetrically making obuvki. Leave a small opening through which fill them with a filler for toys.
Put a face (a triangle), the proposed locations for the eyes and nose. Sew the eye and the tip of the nose.
In this, folded in a triangle, put the muzzle broad edge to the top edge of our cover. Combine the face with the case, promazyvaya columns without nakida (ie, knit from column 3 of loop = loop 1 top of case + 2 loop folded triangle faces).
Continue knitting shortened turning rows, forming the top flap fastener. Do not forget to do at the end of a loop for the button (I'm just tied between the posts a few of the stitches, so that has been button).
Ears - knit circle of desired size (see diagram for circles). In the last row increase not to, due to this ear is a little bent inwards. Sew.
Limbs begin to knit with a rounded part (see diagram for circles) alternating the number of increments and the number without them. When the diameter of the limb reaches the desired size, knit 2-4 rows evenly, then knit symmetrically, ie, instead of increases do obuvki. When the width of the opening will coincide with the desired girth of the limb, fills the curved part of the filler and knit the flat part of the limb in a spiral to the planned length.
Sew the limbs to the main body.
For mouse tail and the strap is knit chain of air loops (if you want to run the harness).
Clothes and other accessories knit in its sole discretion (for the skirt I tied the cover around the perimeter two tiers ruchirawat mesh).
The scheme of knitting:
Post author