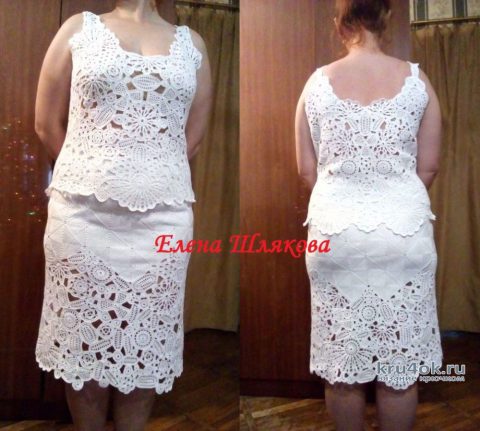 Hello! I want to offer you a suit "flora". This is the second suit "flora" in my collection. The first is in a different color, you can see it on my page. This suit is also custom made. Crocheted № 1, of yarn "iris" in white, 100% mercerized cotton, 300 g — 1800 m., at the suit size 52 went 2 threads, you will also need a bobbin thread to match. How to knit this suit I have already described, but for convenience I'll repeat the description.
The top is made entirely in the technique of stitched guipure, i.e. I imposed motifs, laid out on the screen from the foam composition from motives of exactly the pattern to the canvas, repeating all bends, all fixed with pins and then sewed each element between a bobbin thread to match. WORK ONLY ON THE WRONG SIDE!
The skirt is connected partially in the technique of coupling guipure (each motif is connected with each other to the last row under the scheme) is a band of diamonds, lace and stitch the rest of the Lacy part of the skirt. In order to make the product look more relief every motive I tied "crayfish step." In the scheme proposed by the pattern of the top, but I want to note that this pattern without any Darts, and if the lady's ample bosom, wear a top with no Darts will be extremely uncomfortable. So I just remind you lovely mistresses make their own patterns, taking into account all the nuances of the figure.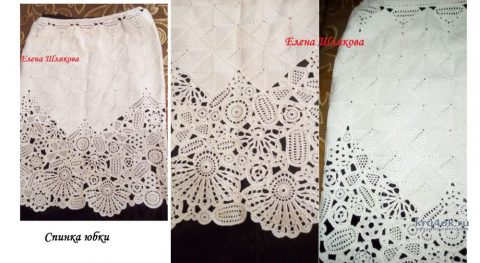 And one more remark: in the description of the skirt, we offer a satin for the lining, but I the lining is not sewed — the band of diamonds is very dense and not through her transparent underwear (in the photo is clearly seen), and as we have in the South in summer very hot weather, it is very important. This band can make wider or narrower, it's the way you want. Most importantly do not copy, still this model is impossible to copy details, and improvise. Description of the scheme and costume are included.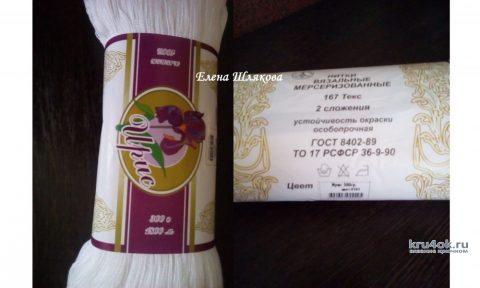 Good luck and light eyes!0
The scheme of knitting and suit description
Post author