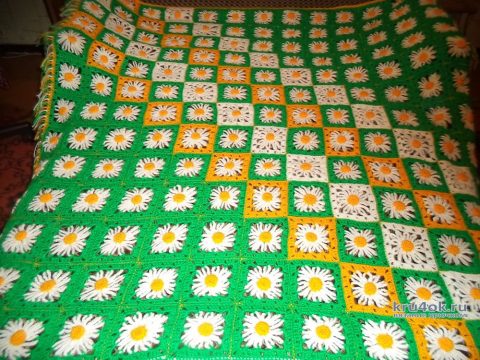 Plaid "Chamomile field", finally tied. Size 1,56/1,68 cm, total 172 motif (13 to 14 squares). Yarn consumption: 500 g yellow, white, 600 g, 600 g green, a total of 1 kg, 700 grams of yarn, a hook 4. Note: green is not enough, we had the field to do yellow and white, but overall I do not regret, otherwise it would be boring...
The scheme is the motive for plaid
For parts to link a chain of 2-loops, then 5 columns without nakida. Further, in each loop knit across the row 2 column without nakida. Third row - knit into the two loops of the previous row as one. There should be 5 loops, you get a small bump.
Change the color of the thread, vivasyan a chain of 12 loops in each loop of the previous row of 12 petals.
You should get a Daisy. Banded by a chain 4 loop aerial connected. Now you need to square. In the latter connection, the arc recruited 4 of the EP are finished and 2 tbsp. with nakida (happened 3 St with stitches), 1 VP, the next arc (between the petals) are finished 3 column with nakida, 1 VP and t,d in forming the area are finished in one arc 3 St with nakida, 3 VP, in the same arc 3 St with stitches.
Post author