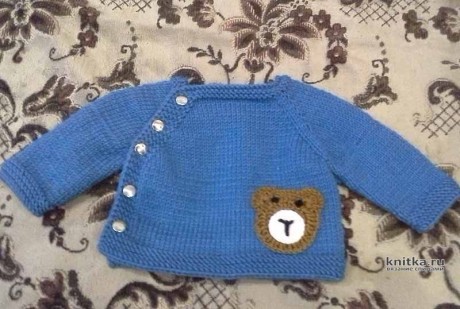 Knitted blouse with pocket toddler for 4-6 months out of the Arctic NAKO yarn (100g/100m) in one thread spokes № 3,5. The product left 200 gr. Knit Raglan top on circular needles.
How to knit a blouse for kid, job description
The spokes were given to 64 loops and knit 4 rows of garter viscous ( all loops of the front).
Then split the loop in the following way:
1 edge, 4P.regenye (these loops are always knit in garter viscous), 16 p. before, 2 p. regenie , 8 p. sleeve, 2P.regenye, 16P. back, 2P.reglan, 8P. sleeve, 4P.regenye (these loops are always knit in garter viscous), 1P.edge.
In 4 repanich the hinges of the front after every 10 rows, make a button loop as follows: 1 edge, 1 persons, 2 p. together facial, yo, 2 persons.
The whole sweater tied hosiery knitting. Before and after repanich hinges did yo in the front row, and purl the knit nakida was crossed stitches to avoid holes.
When the needles 170 are formed of loops, separate the sleeves and knit the main part until desired length. Finished hem blouse 8 rows garter knit.
The hose loops uniformly subtract 1 loop on each side . At the end of the sleeve I was left with 30 stitches. The cuff is connected to 8 rows of garter knit. Sew seams of the sleeves and sew buttons.
Pocket bear head knitted brown yarn:
hook scored 5 loops, closed chain in ring 3P. for lifting and tying a ring of columns with nakida. 2nd row-p. 3 for lifting and one column was vymazal 2 tbsp. with nakida to make a 24 column with nakida. 3rd row - 3 p. to lift up, then alternate 2 tbsp. with NAK. From one of the base of the column from previous row and 1 tbsp. with nakida. A total of 36 columns.
Now, knit the ears. 2 who.p. recovery, 11 St. without nakida. Skip one column and knit 8 table. with two SC , skip one column, then knit 6 St. without nakida. Again, skip one column and next 8 St. are finished with two SC, skip one column and knit 12 St. without nakida.
For bear faces 5 air loops closable in the ring.
1 p - 3 who. lift loops, 11 columns with nakida.
2P-2 who. loop lifting table 23. without nakida ( one column vivasyan 2 tbsp. without nakida).
Sew muzzle to head.Black thread make the mouth and eyes. Sew the applique to the blouse. Head to head is not sewn to the jacket,
This grub pocket. Everything is ready.
Post author