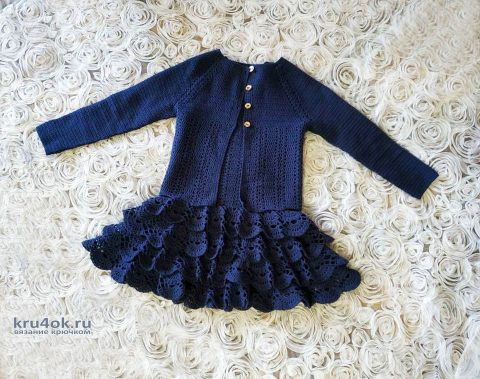 Suit for girls. The work is made of Lanoso cotonax cotton with acrylic 50/50, the hook is 1.3 mm.
Density knitting 1 cm = 3.23, p and 1.33 R. Sarafan linked openwork tracks skirt with ruffles. Every strip is imposed on the loin of the net. On the back there is a zipper, which facilitates putting on and taking off the sundress. Can be worn under a t-shirt, blouse or Golf. In combination with white looks especially elegant.
Blouse tied with a Raglan from the top. The top and sleeves of coats - columns with nakida, and the bottom of the shirt tied in the same delicate tracks like a sundress. The jacket closes with 4 buttons. Sundress is linked to the following dimensions: height - 110cm, bust - 60cm, armhole height is 14.5 cm, the height of the top of the sundress (without ruffle) - 34cm, length - 55cm. The suit can be safely used as school uniforms.
Schemes of knitting crochet suit
A video lesson on crochet costume crochet, part 1
https://youtu.be/hIIl0gZ3-gQ
A video lesson on crochet costume crochet, part 2
https://youtu.be/xvkg0WeLGGQ
Post author