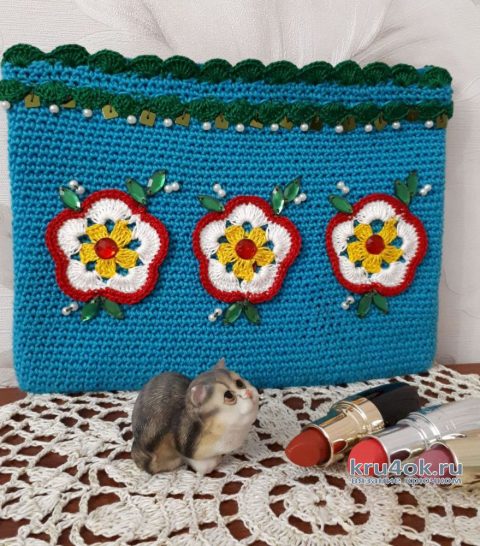 Cosmetic bag for small accessories and cosmetics. The finished cosmetic bag you keep for yourself or with love and warmth to give to your best friend. Size of bag 15 cm x 21.5 cm
For knitting beauticians should:
Yarn "Cable". Composition - 100% cotton. Colour-blue.
Yarn "Iris". Composition-100% cotton. Colors-white, yellow, red, green.
For the decoration of rhinestones, sequins and beads.
Red round rhinestones 3 pieces.
Rhinestone green leaf 15 piece
Beads pearls 50 PCs.
Sequins khaki 28 PCs.
Fabric for lining 32 cm x 24 cm
Lightning blue with a length of 20 cm.
Crochet hook No. 1,1.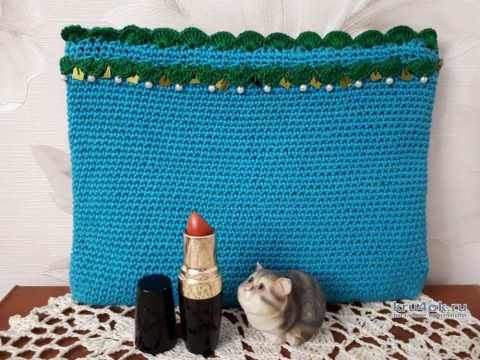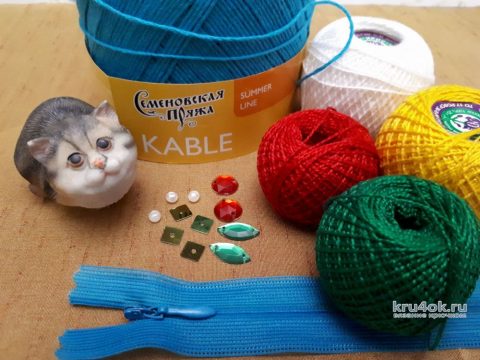 Cosmetic bag with hook, job description
Knitting start from the bottom of the bags a yarn of blue color.
Tie a chain of 50 loops -1 number.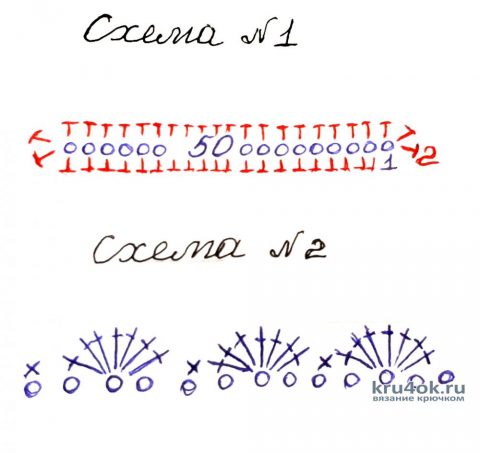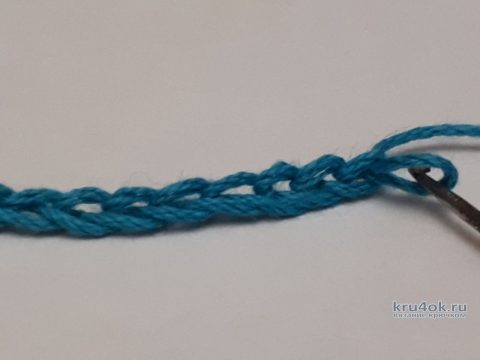 Next knit circular rows of columns without nakida -2 range. Just knit 45 rows ( = SC 54 ).
Then knit the green yarn according to scheme 2 :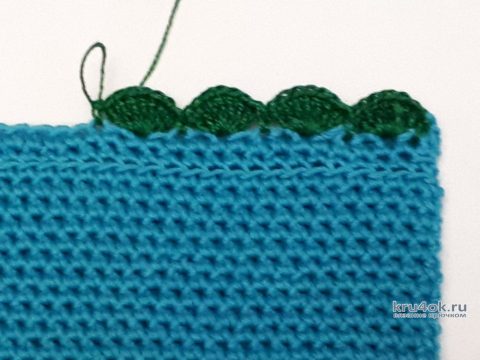 Banded edge cosmetic teeth. Get two bands-the kinks.
Next knit flowers-3 pieces 3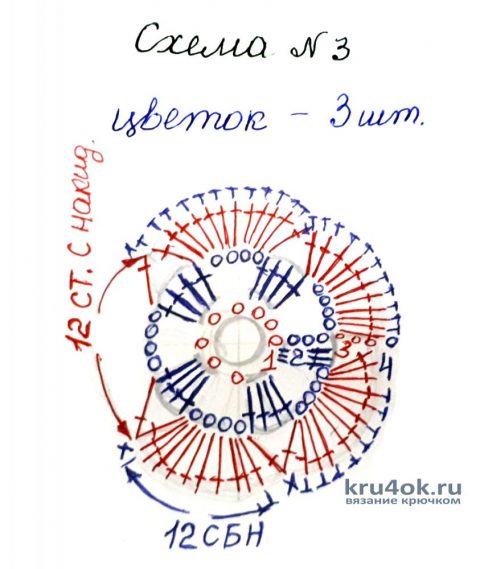 Yellow yarn 1 and 2 ranks.
Tie a chain of 8 air.pet. Close its 1 Conn.St.in the ring.( 1 row )
2nd row -knit 7 air.pet., the next 4 columns with one nakida, then 4 air.Peta, column 4 with one nakida, 4 air.pet., Column 4 with one nakida, etc. under the scheme.
White yarn - 3 or 4 rows.
3 row - 3 air.Peta..11 columns with nakida under one chain of 4 air.pet., next 12 columns with nakida under one chain of 4 air.pet. etc..
4 number-1 air.pet., next banded columns without nakida.( 12СБН + 12СБН + 12СБН +12СБН + 12СБН)
Ready flowers to sew to the purse. Decorate the center of the flower red strati. Sew along the edge of the green flower with rhinestones and pearl beads. ( See photo ).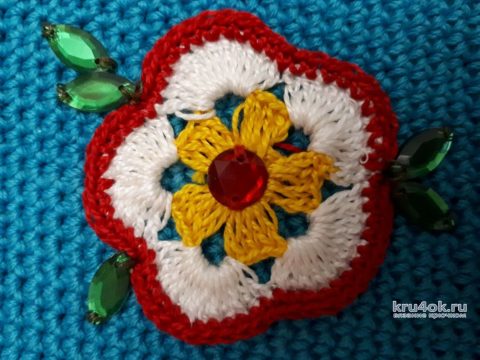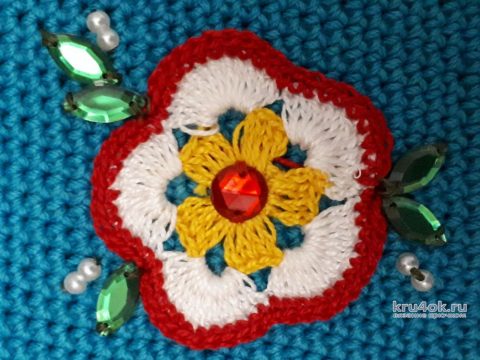 Next, on the edge of cosmetics to the green stripes on the teeth to sew sequins and beads pearls. ( See photo ).
On to the finished based beauticians sew the zipper.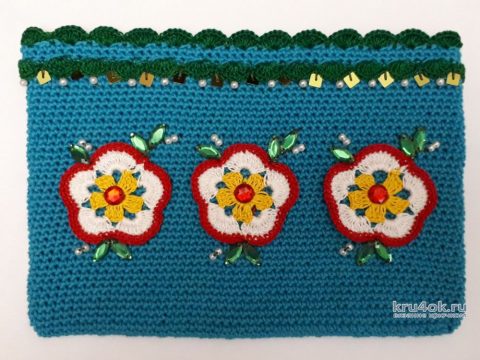 Now cut out the lining according to the scheme № 4. To give a seam of 1 cm. Folded in half, face inwards. Sew the side seams. To attach a lining to knit based cosmetics. Manually sew along the edge of the entrance of the bag along the zipper.
Cosmetic bag ready.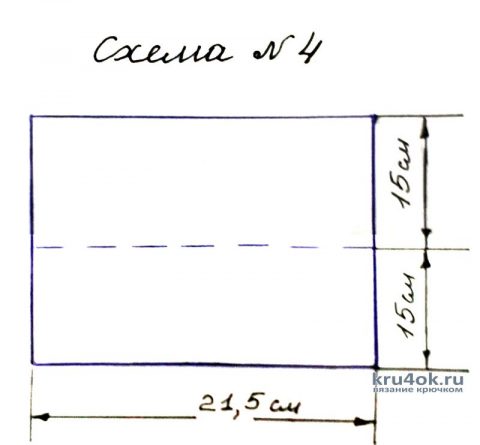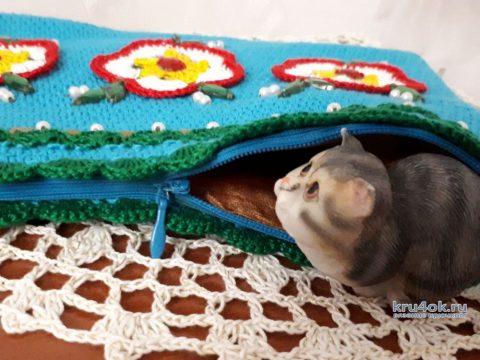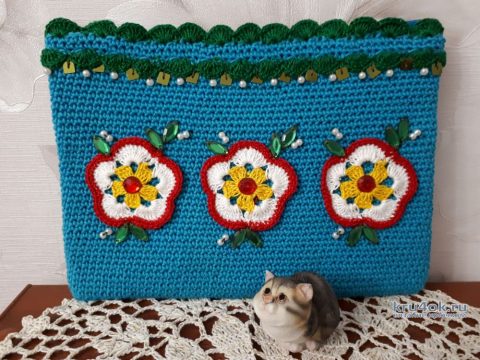 Post author