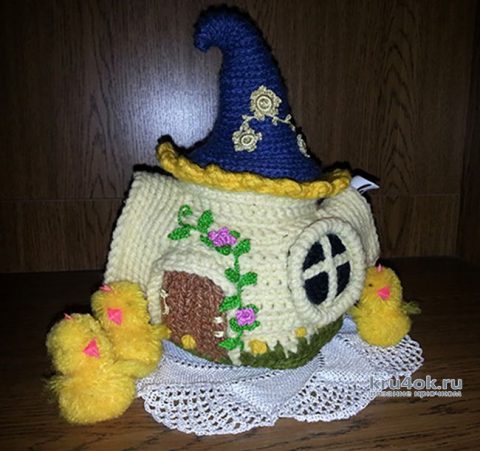 Knitting at the master class, Fair masters (Anya Kardasheva "Fairy house"). Given the size of his teapot, increased the number of rows on the spout and handle to maximize to fill the whole kettle. Bottom cover tied with green thread, simulating grass, the loops are different lengths. Over long loops embroidered with yellow thread flowers.
The sprig above the door is connected by the thread of iris simple diagrams, hook-0,5.
Leaves: 5 VP tied SC, making Pico of the 3 loops at the top. Flowers: ring 4ВП, in a circle of 4 lush bar.
On the cover yellow twig it a bit harder. Ring bound with two rows of SC.
Flowers 5 and 7 petals. Petal: 3 ring 4ВП from one hinge. Leaves 3ВП in the ring.
Master class how to tie a heating pad on the kettle part 1
Master class how to tie a heating pad on the kettle part 2
Post author