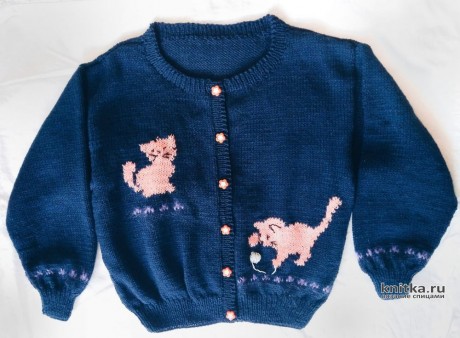 Blouse "Funny kittens". Size 36-38, length 44cm.. Associated front surface with vyazaniem drawing playing kittens.
Yarn Trinity "Bee", 100% acrylic, 500m/100g, knitting needles No. 4
it took about two skeins on kittens - the remnants of yarn. 6 buttons.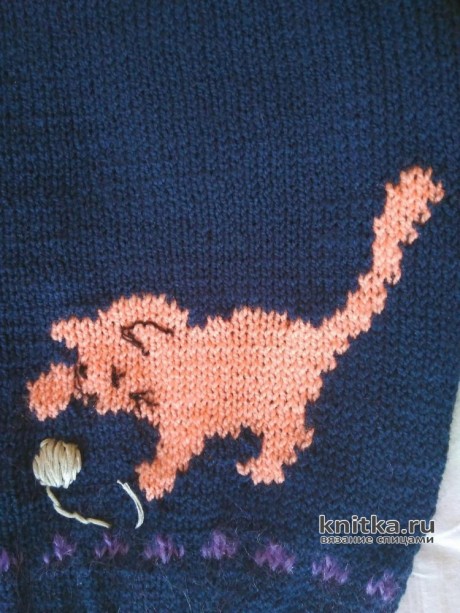 How to knit a sweater, a description of the work
Back. Scored 88 loops and knit elastic band 1*1 5 cm, the last row is uniformly added 13 loops = 101 p.
Next knit stitch facial. At a height of 23 cm close to armholes on 1 time with both sides at 5P. = 91п.
At a height of 42 cm close to neckline middle 29п., with both sides close to each 2 series 2 times in 3 p.
At the same time for the bevel shoulder close to every 2m row 3 times 6 and 1 times 7s.
Left shelf. Dial 44 p., knit 5 cm rubber band, in the last row evenly add 7P. = 51п.
Hereinafter, the front surface. Just above was vymazal kittens. As for the back armhole. At a height of 36 cm close to the left edge for neck 1 8 times p, then every 2-m 1 times 3P., 3 times at 2 and 4 times in 1P. At a height of 42 cm as back - shoulder.
Right shelf - the same.
After assembling collar and the shelves to dial loops and knit into band 1*1 don't forget to make the holes for the buttons!
Thank you for your attention.
Scheme and pattern of the blouse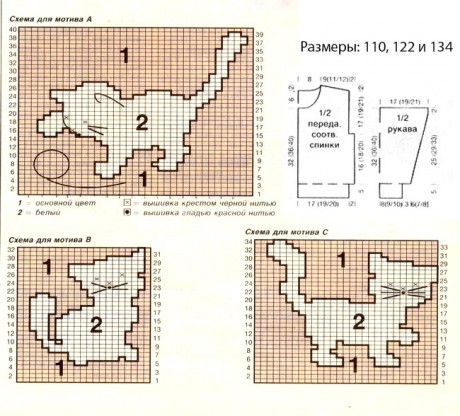 Post author