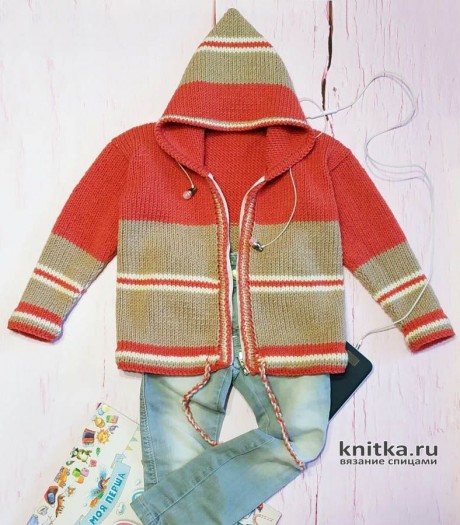 Hooded cardigan knitting. The model is unisex. The work is made of wool mixture Lana Gold Classic 49% wool and 51% acrylic, with knitting needles No. 5. The consumption of yarn 3 skeins (300g).The cardigan is very warm and soft, not scratchy. Fastens with a zipper. Fit easily and quickly in one breath. Knit on girl five years in the following terms - the circumference of chest circumference of 56 hips 60, sleeve length - 33 length - 41.
Hooded cardigan knitting
Back
On needles dial 56 loops. To make the ACC (to the description of the attached video, MC) and knit on a smooth canvas 86 series.
A shelf (right)
Gain 28 loops. Make and ACC to 85 range to knit a smooth fabric,then make obuvki for neck -
85r - 5 loops to subtract
87р - 2 loop
89r - 1 loop
91р - 1 loop
93р - 1 loop
95r - 1 loop
Shelf (left)
86р - 5 loops
88р - 2 loop
90R - 1 loop
92р - 1 loop
94r - 1 loop
96р - 1 loop
the remaining loop knit to 102р.
Sleeve
dial on the spokes 26 of the loops. To execute the ACC and knit 84 rows,making allowances on both sides in every 6 row ( from number 20).
Hood
Dial 74 of the loop. Make ACC and knit smooth fabric 44 series.
Assembly
Perform shoulder seams. Sew sleeves,then perform side seams and sleeves. Sew the hood and insert the zipper.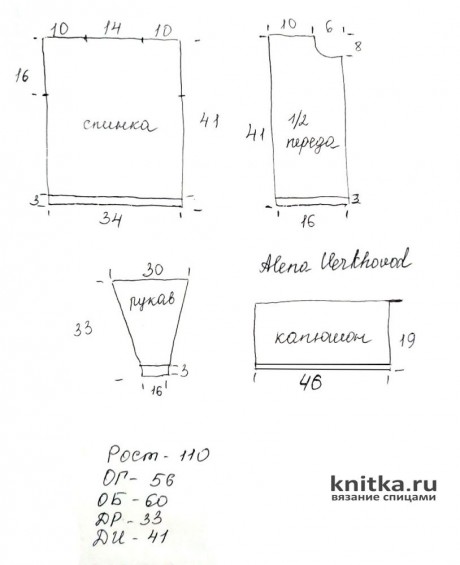 Video lesson how to knit hooded cardigan
Post author