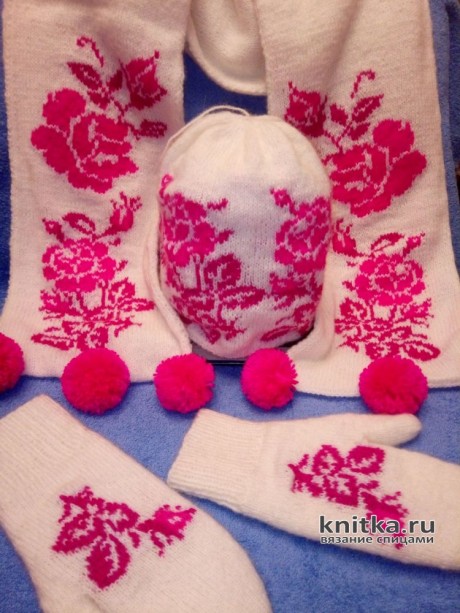 The smart kit will add freshness and brightness to your image will emphasize your individuality.
Hat, scarf and mittens were knitted from yarn "Angora warm". Kit is lightweight, warm, soft.
And the cap, and mittens, scarf is double (inner side is just white with no pattern). Inside the mittens there are no broaches, thread will not cling.
Scarf 20х170 cm, hat size 55-56.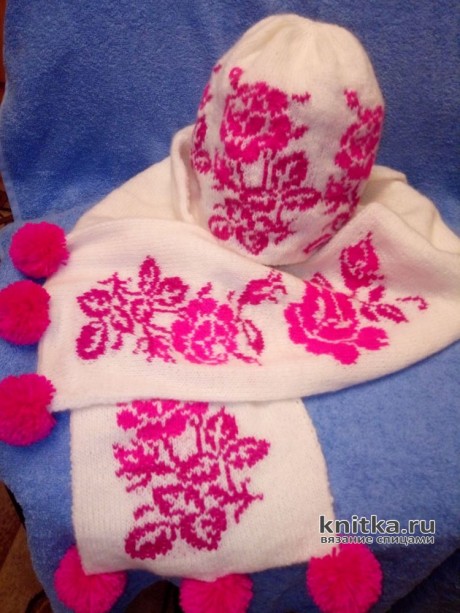 For vyvazhivanija pattern on the scarf used the scheme, which shows a pattern of roses in a square (bottom left). rose then knitted according to the scheme 10.
Linking half of the scarf, knit the second, repeating the pattern. Then the two halves of the scarf are connected cattalini seam. The second part of the scarf (white) knit the front stitch, while combining it with part of the scarf where you linked the picture. Either both parts neatly sew.
On the hat - bottom left rose (pattern), repeat 4 times at equal intervals.
Mittens on - scheme 10 knit only the leaves and a rose Bud.
The scheme of knitting
Post author