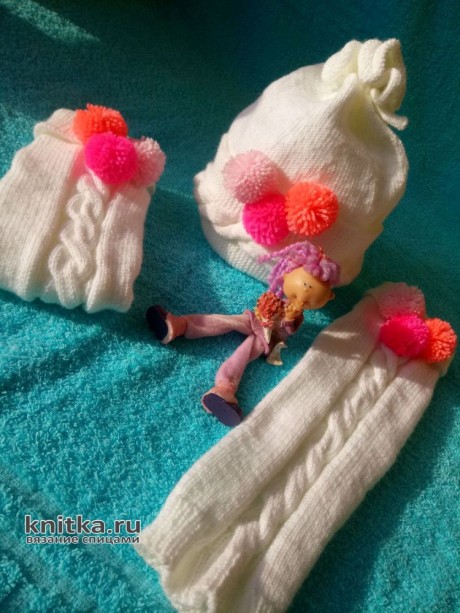 Light spring kit for girls.
Spring kit for girls 5-7 years - a hat with pompoms and perky leg warmers.
Leg warmers look good with the shoes and boots.
White color in combination with POM-poms in pink colours always give a good mood to your child.
Kit knitted from the yarn of the "Children's novelty". Yarn is a special acrylic that is particularly soft and hypoallergenic properties due to the fibers of PAN. The product of this yarn is easy to wash and dries quickly.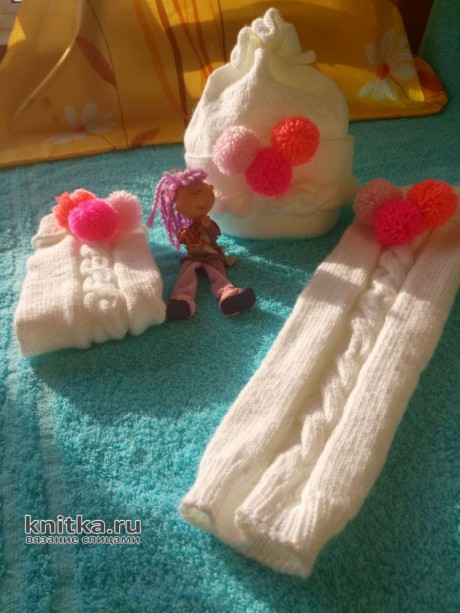 Leg warmers description
Leggings are bound in a circle (without a seam). We print on the spokes of the number of loops equal to the girth of the ankle, knit band 1x1 4-5 cm Then knit the front stitch, side braid 5X5 (5 loops to delay on AUX. spoke before work, 5 persons, 5 persons. with AUX. spokes). Necessary make adding loops. So knit to desired height minus Those 4-5 cm 4-5 cm knit elastic 1x1. To close the loop.
Cap, job description
For crochet beanie to dial the number of loops equal to the height of the lapel. Knit as follows: 6. (these loops and the underside of the front tally), 4.., braid 5x5, 4 Phi., 6 persons (on the underside also knit face). The length knit the cuff according to the circumference of your head.
Linking the desired length, close the loop.
On the long edge of the bezel, dial loops and knit stitch facial height of the cap ( 20 cm). In the next row, knit 2 together facial,yo - so repeat to end of row. Get holes, then insert the lace. After a series with holes knit another 4 cm the front surface and freely close the loop. Sew the lapel of the hat. Knit lace (crochet; here is knitted), insert it into the holes and tighten the cap.
Decorate the hat with three bright POM-poms.
Post author