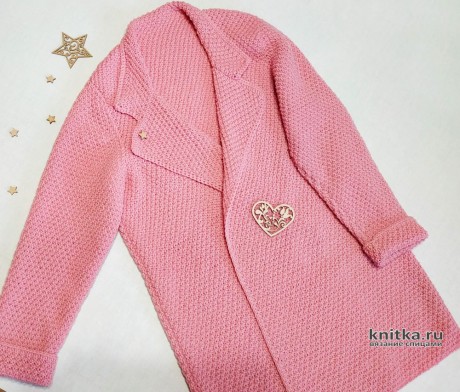 Cardigan is knitted from wool mixture Alize lanagold classic 240m in 100g,color # 161 powder, 51% acrylic and 49% wool. Knitting needles No. 5. The cardigan took 7 skeins of yarn. After the sample is drawn long and to avoid unpleasant surprises, before you start knitting definitely need to link the sample and the WTO, and only after that to do the calculations.
I've been knitting the cardigan on 48р, but since the customer asked that he was very free, if to knit by my calculations and pattern the cardigan is fine at 50-52r. The pattern used a very simple "thread waste", the number of loops must be even.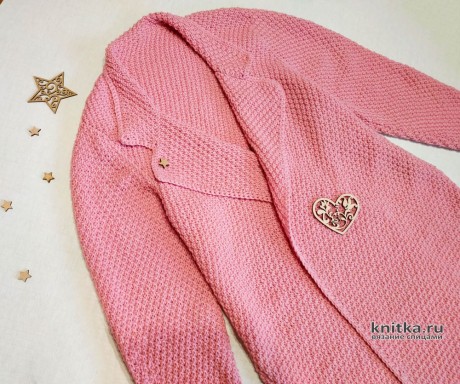 Density knitting - 10cm = 17 loops and 23 series.
Measurements
OG - 96cm
ABOUT - 99cm
DI - 85cm
DR - 62cm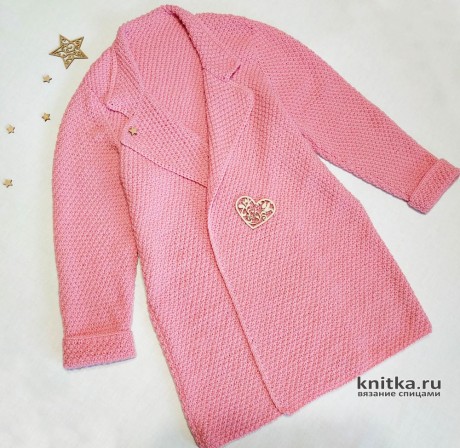 The sleeve was knitted from the armhole. Consider the number of stitches on the armhole (undercuts do not believe in the total number of loops) and divide by three. I got 66 loops. 66/3 = 22. Then we print on the spokes of the middle loop 22 and the rotary knit rows and at the end of each number was added one loop. So we knit to undercut. Undercuts recruited from the needle ( I have undercuts make 7 loops). And then knit the sleeve to the required length do not forget to make obuvki on each side. Before the end of the sleeves will remain 6cm, go to the spokes of a smaller size and knit the sleeve until the end. Then again, go to the needles, which knit the entire canvas and knit another 6 cm This is to ensure that the sleeve lapel lay beautifully.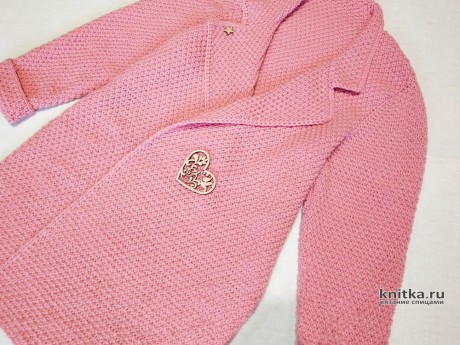 Collar
Loops that we closed on the shelf divide in half and recruit from edge loops first on the left shelf, then on the back and on the right shelf. Knit to the required height.
The scheme of pattern and pattern for cardigan knitting
Video lesson how to knit cardigan knitting
Post author